"We laser cut a lot of parts, for our own truck-body business as well as for other OEMs as part of our contract fabrication business," Brown says. "In 2019 we realized a great opportunity with one of our largest customers for laser-cut parts, a manufacturer of specialized lifting equipment. We had the opportunity to weld and assemble a particular line of equipment for them, and once we started the project, we quickly realized that robotics would significantly streamline the process. We acquired a robotic welding cell from TranTek Systems (an integrator in Traverse City, MI), centered around a Yaskawa Motoman robot."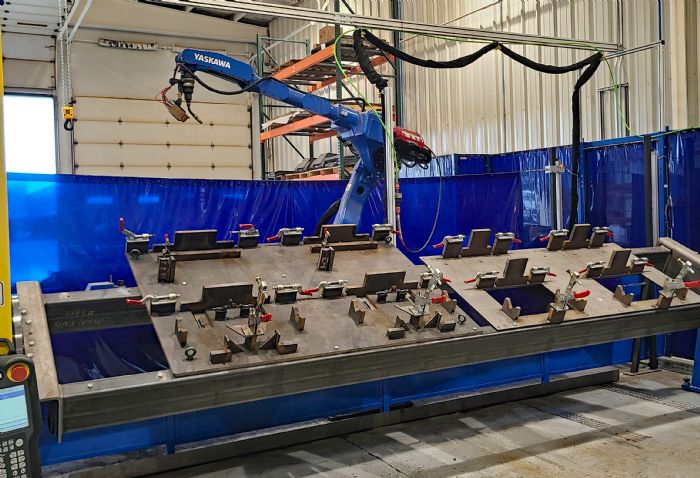 This first foray into robotic welding at Brown Industrial, developed specifically for welding the lifting-equipment assemblies, features a Motoman AR1730 robot (25-kg payload capacity, 1730-mm horizontal reach) that welds on a 3 by 8-ft. table with bolt holes on 6-in. centers to hold fixtures—designed and fabricated inhouse by Brown and his team. "We welded more than 3000 assemblies/yr. during the last two years," Brown says, "so the decision by management to move into robotic welding was a good one."
So good that earlier this year the firm added a second robotic welding cell, a Yaskawa ArcWorld 2000. It features a Motoman 3120 high-speed robot (20-kg payload capacity with 3124-mm reach) with a two-station headstock-tailstock positioner, torch-cleaning station and fully compliant safety environment (to ANSI/RIA R15.06). The welding-equipment setup features a Lincoln Electric pulsed-arc power supply, Binzel water-cooled torch and the MotoSense vision-system seam tracker to help account for part-fitup variability.
"We initially tried air-cooled welding guns but were buying replacement parts monthly," says Brown. "Hence the change to water-cooled guns."
Both robot cells run 0.045-in.-dia. Lincoln Electric L59 weld wire shielded by 90 Ar-10 CO2 shielding gas. L59 is a copper-coated, mild-steel, engineered-alloy gas-metal-arc-welding wire—a solid-wire alternative to metal-cored, according to Lincoln Electric, that provides fast travel speeds and tolerance to high amounts of surface contaminants.
Focus on Fitup
Don't Spec a Welding System Until You've Done This
A blog post from Yaskawa America, authored by Zane Michael, director of strategic accounts, explains that "the prevailing thought has been that robotic welding systems can't handle the diversity of tasks required for difficult weldments, but technology has changed. From improved welding-process capabilities to enhanced laser sensing and technologies, advanced robotic welding solutions are making it easier for manufacturers to tackle the most difficult, dangerous and dirty tasks."
Michael turns then to how fabricators can calculate the return on investment (ROI), and gauge payback time on a robotic welding cell.
"While significant cost savings can occur over the 10- to 15-yr. lifespan of a robot (30,000-40,000 hr. with proper maintenance and possible refurbishment)," he says, "most companies plan to reach ROI within a 2-yr. payback period…Estimating a realistic budget to meet defined business goals makes system design a more focused and productive undertaking. Upon commissioning of a new system, ramp-up time can be critical to meet target payback periods. In most cases, a standard ArcWorld workcell can be a perfect fit. Not only are these pre-engineered solutions easy to integrate and operate, but they also offer optimal design and configuration options for parts of all sizes. For unique applications, there are customized systems (equipped with worldclass components to meet specific needs) available.
"Understanding the cost savings associated with a long-term approach to automation is essential," Michael continues. "Only then can manufacturers make the most profitable decision when it comes to choosing a robotic welding solution."
Brown designs the firm's welding fixtures using manual spring clamps to hold parts in place for the robots. He notes that part dimensional consistency was a focus initially, requiring careful coordination with the firm's press brake operators to ensure they meet the relatively tight weld-joint fitup requirements of robotic welding. Now they take care to periodically check their parts for good fitup and, when necessary, place them back in the press brake for a rehit. "They're good about not sending out-of-spec parts to the robots," Brown says.
"We strive for a maximum weld-joint gap of 1⁄16 in.," he adds. "In addition to tightening thing up at the press brakes, we also worked with the customer to change some of their part designs to better suit the robots. That meant adding locating tabs and slots to some of the parts to locate them more accurately, rather than just relying on tack welds to hold everything in place."
The weldments have an average weld-cycle run time of 10 min. in the smaller robot cell. "Welding them in that smaller cell," says Brown, "requires an operator to enter the cell once or twice and add parts to the subassembly, interrupting the weld cycle. We'll be able to weld complete assemblies in the ArcWorld cell, eliminating the additional manual part fixturing and ensuring a nonstop weld cycle. We also can leverage the larger workcell and positioner, and the longer reach of the robot, to complete two assemblies per cycle.
"While we're still in the process of moving the subcontracted work over to the ArcWorld," Brown adds, "we're confident that once we finish that, we'll take our arc-on time for the lifting-equipment weldments from 75 percent to around 90 percent. We'll then begin to move some of our own jobs, a lot of manual welding for our line of OEM truck bodies and trailers, over to the robotic welding cells."
Asked what lessons Brown and his team have learned since implementing robotic arc welding, he says "we're still learning every day. But we definitely subscribe to the 'crawl, walk, run' theory. We've focused on learning the technology first, in part with a lot of operator and programmer training at Yaskawa. Then we started with smaller parts and subassemblies and graduated to bigger. And, we're certain that more robotics is in our future." MF
See also: Yaskawa America, Inc.
Technologies: Pressroom Automation