"You want a reputable integrator that can show some past work in automation for metal formers and fabricators," he says, "not someone doing their first rodeo. An inexperienced integrator won't be able to provide the training required to enable effective takeover by the manufacturer."
On the technical side, the most important integration issue related to press brake and stamping applications involves obtaining the correct signaling between the automation and the existing machinery.
"Make sure to employ a lot of safety protections in the cell—especially die protection," Mayse offers. "Most companies will have integrators perform that work."
Mayse advises companies not to be put off by their experiences with the complexity and sunken-time cost of traditional automation.
"We have seen more than a few companies sit on traditional robots for a year or two trying to integrate them until they become fed up," he says. "These projects can give the culture a bad taste for the robots and for automation in general."
2. Programming Simplicity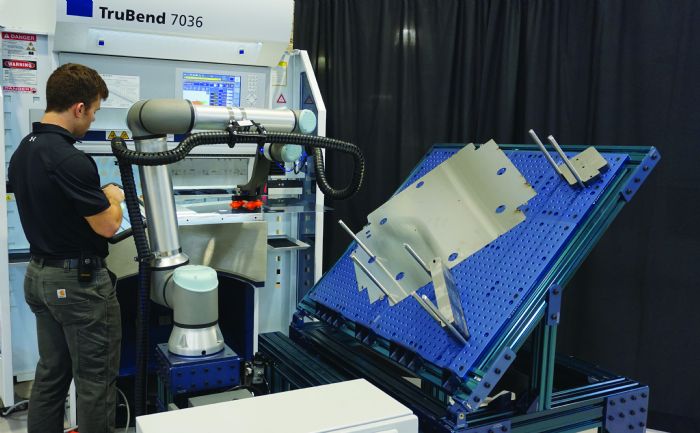 A main attraction of cobots: They often are much easier to program than traditional automation, which enables end users of varying skill levels to program automation inhouse. However, some solutions prove easier to program than others. For example, some cobots can be programmed simply by guiding them into position manually and then completing some simple steps on a teach pendant or via desktop, laptop or smartphone. Other systems will require some previous robotics experience on the part of the end user.
Be sure that the chosen solution matches your company's inhouse skill level, as due diligence on this point will reduce the time—and stress level—associated with deployment.
3. Training Resources
The reputation of traditional pressroom automation as complex causes anxiety among many metal formers and fabricators about their ability to successfully deploy and manage robots inhouse. Cobots change the dynamic due to their usability. From the end-user perspective, a well-designed cobot solution is one in which all of the complexity has been engineered away from sight, replaced by user-friendly interfaces and programming methods.
The best way to lessen automation-related anxieties: Obtain some hands-on experience with a cobot-based solution. Invariably, these initial fears fade away when people come face-to-face with cobot-programming processes. Consider it part of the training process.
When selecting a cobot, look for offerings that provide easy access to hands-on demos with engineering and production teams. This will lessen any fears around cobot complexity and provide an opportunity to answer questions about the details of the process selected for automation.
Hands-on demos represent just part of the spectrum of training resources provided by cobot suppliers. Look for free online courses, simulators and training videos, too. Content is available for end users of all skill levels, from ebooks that introduce key concepts to video tutorials that guide potential users through the finer points of an application deployment. Note that due to its overall ease of use, the training required to operate a cobot proves minimal as compared to the training required to operate a traditional industrial robot.
The team at Mid Atlantic Machinery, Harrisburg, PA, for example, can integrate and deploy a cobot-powered stamping solution within 1 to 2 weeks, according to Mayse. This includes training that leaves end users as "masters" of the system, he says. In contrast, a traditional stamping-automation system may take at least 1 to 2 mo. to integrate, train users on and deploy. Even after all of that, many companies will need to call the integrator back in each time that a traditional robot needs reprogramming.
4. Specialist Application Kits
Cobots are powerful platforms for performing all manner of applications, from screwdriving and sanding to inspection, machine tending and palletizing. As a result, an entire industry has arisen that builds on cobot platforms to provide specialized peripherals and software designed to tackle specific applications. These kits contain everything required to get started quickly on an application.
Look for a cobot supplier that can provide an ecosystem of certified third-party solutions specially designed to take on press brake, stamping and other pressroom applications. These application kits remove a lot of the guesswork involved in cobot deployment, and ensure rapid deployments, lower TCO and faster ROI than both ad hoc and traditional automation solutions.
5. Champion
"Without a project champion or ambassador," says Mayse, "your likelihood of succeeding is almost nonexistent."
Identify someone within the organization that can take ownership of the project and champion the solution. Without a cobot ambassador, the project likely will lack a focal point and your company won't be well-placed to make the most of collaborative automation's speedy deployment times. Well-made cobot systems can be used by employees with no previous robotics experience, so don't assume that the cobot champion must have a huge amount of robotics or technical experience. The champion could be a general associate with a good eye for process efficiency and an enthusiasm for new technologies. MF
See also: Universal Robots
Technologies: Pressroom Automation