Cobot-Based Application Kits Simplify Automation Deployment
March 10, 2020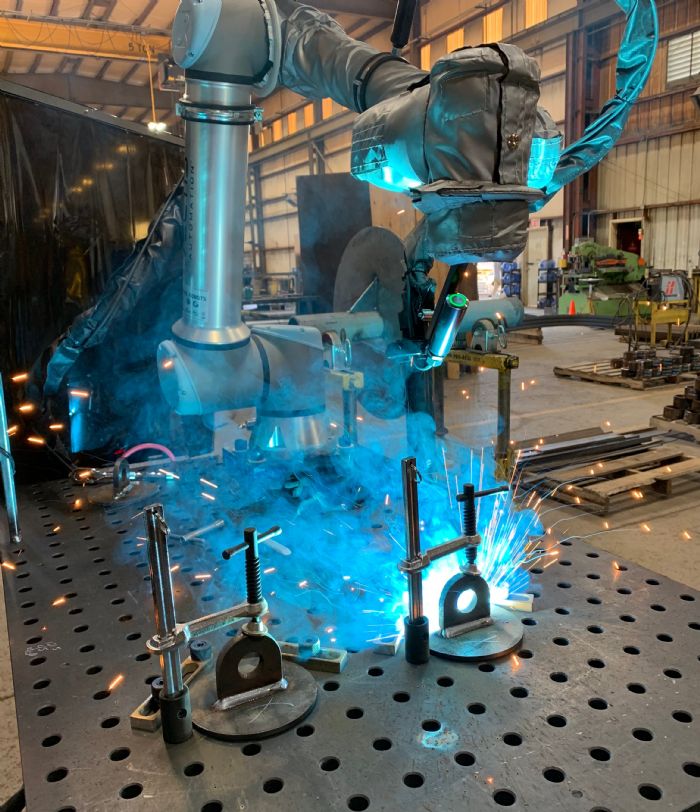 Denmark-based Universal Robots (U.S. headquarters in Boston, MA) has introduced 20 software and hardware kits for popular cobot applications, available on the firm's UR+ cobot platform. By reducing recurring engineering decisions for common applications, the "plug-and-produce" kits promise to minimize project risk and complexity and are ready for fast implementation for tasks such as welding finishing, inspection, assembly, machine tending, material removal, dispensing and material handling.
The expanded UR+ ecosystem now features two different categories: components, and application kits that come with URCap software that enables users to control all peripherals directly from the cobot's teach pendant, in a rich 3D user interface.
One such kit, available in North America, is the new Vectis Cobot Welder application kit that comes with all hardware provided fully integrated onto a mobile, modular cart. The cobot welder allows manufacturers to set weave parameters for cleanly tied-in welds using a Weld Template Library that provides parameter starting points for common weld sizes. The Vectis Cobot Welding Tool helps manufacturers boost productivity amid the shortage of skilled labor by reducing the learning curve, setup time, risk, and cost of implementing robotic welding. Powered by a Universal Robots UR10e collaborative robot, the Vectis Cobot Welding Tool is portable, safe, versatile, and easy-to-use. Most users are set up and welding within a few hours of arrival, say company officials, with no programming experience necessary.
See also: Universal Robots
Technologies: Pressroom Automation, Welding and Joining