Conveyor Design Helps to Solve Several Press-Line Challenges
September 1, 2010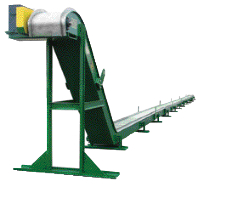 Magnetic Products, Inc., Highland, MI, designed and constructed this Series 1200 beltless magnetic conveyor to help its customer deal with an unusually high drop from the pass line of a new press, to handle scrap removal. Among the challenges: the conveyor must keep up with an extremely high volume; each piece of scrap measures more than one foot long; and, the angle of incline must be extremely steep to accommodate the plant's deep pit.
Rather than use a steel hinge conveyor, the stamper opted for a magnetic conveyor to avoid having to deal with slide-back or cascading scrap, or wedging scrap, which can lead to the early demise of steel conveyors.
Magnetic Products, Inc.: 248/887-5600; www.mpimagnet.com
See also: Magnetic Products, Inc.
Technologies: Pressroom Automation