Smarter Motion Controls Promise Better Hydraulic-Press Performance
May 1, 2008
Increasing pressure on metalformers to improve productivity while decreasing costs has placed stringent demands on the machines they employ. Hydraulics remains the power of choice for heavy-duty presses, but older hydraulic-control systems often lack the precision to produce highly accurate and repeatable motion, and high maintenance costs for old presses can place users at a disadvantage. The picture is not as bleak as it may seem, however.
Adding closed-loop electro-hydraulic motion controllers with position-pressure/ force-control capabilities can make new presses excel or enable older machines to function like new. And retrofitting open-loop control systems with these controls provides another dimension of control to increase productivity, improve quality and decrease maintenance costs.
Position and Pressure Control are Musts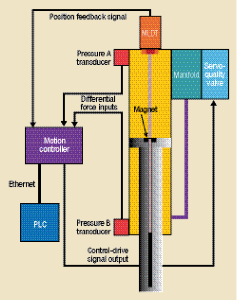 Fig. 1—This diagram shows how the electronic motion controller connects to the hydraulic cylinder as part of a hydraulic system in a high-capability press. Position feedback is provided by a magnetorestrictive linear displacement transducer with differential-pressure (force) feedback provided by two pressure sensors mounted in the cylinder.
The main distinguishing characteristic of hydraulic presses is the need to control, in addition to position, the pressure or force exerted by an actuator. Advancements in electro-hydraulic motion controllers, combined with precise position-feedback devices such as magnetorestrictive linear displacement transducers (MLDTs), allow precise positioning of hydraulic actuators, capability that until now was not possible. In addition, methods for controlling position-to-pressure or position-to-force transitions have advanced significantly.
In the past, presses often used pressure-relief valves to limit the pressure used to apply force, but the technique is flawed owing to net force. Pistons have two sides, and a pressure-relief valve only reacts to pressure on one side of the piston. Since pressure occurs on both sides of the piston, applied force is not determined by the pressure on only one side. A around this problem is to mount pressure transducers in each end of the cylinder as shown in Fig. 1. That figure illustrates a hydraulic system used in a high-capability press, with position feedback provided by an MLDT and differential-pressure (force) feedback provided by two pressure sensors mounted in the cylinder. Control is via a servo valve.
Advantages of Precise Control
The addition of a programmable motion controller able to precisely control applied force and transition smoothly from position control to force control brings several advantages:
• Pressure spikes that damage sensors and cause leaks can be reduced or eliminated, decreasing maintenance costs and extending press life.
• More flexible production results from the ability to easily change a recipe that specifies different positions and forces during the machine cycle, which also significantly reduces machine downtime.
• Position and forces can be changed on the fly, allowing more flexibility in producing challenging parts.
• Multiple sections or axes of a large press can be coordinated or synchronized.
• Diagnostics and process monitoring can use data obtained from the controller.
• The press can adapt automatically to handle varying material consistencies and the effects of differing environmental conditions such as temperature and humidity.
In addition, more consistent, smooth motion results in less wasted or rejected parts, and ensures consistent quality and production from different machine operators with varying skill levels.