New Features in Press-Automation Controller and OEE/Data-Collection Software
July 16, 2021
Wintriss Controls Group
Booth D47335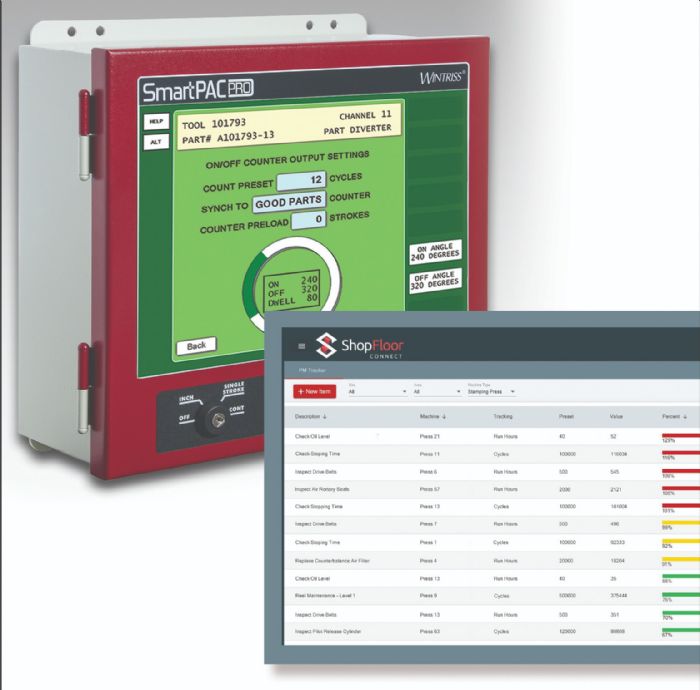 Wintriss Controls Group is demonstrating new, advanced features in its SmartPac Pro press-automation controller and ShopFloorConnect overall-equipment-effectiveness (OEE) and data-collection software. For connection to a smarter factory, including when remote monitoring is required, the latest functionality in these products gives metal formers and fabricators efficient and simple-to-use tools, according to company officials.
ShopFloorConnect's PM Tracker enables users to track important machine preventive maintenance (PM) items by run hours or machine cycles, issues targeted alerts when an item requires PM, and tracks maintenance-work history for all machines. ShopFloorConnect 6.0 also features a new universal, interactive application-program interface that allows for rapid setup of two-way data sharing with any ERP or MES software.
And, debuting at FABTECH is the ProCamPac Pro programmable limit switch. It includes counter-driven outputs that operate only on specified strokes to precisely control gagging operations, new asymmetrical toggle outputs for controlling complex configurable tooling, and additional timed outputs for improved versatility.
Attendees also can see the Advanced DiProPac, boasting more than 10 new capabilities for heightened die protection. Highlights include a new customizable green sensor type, Green Flex, which can monitor intermittent events such as gagging operations, and also incorporates a function that allows for the precise monitoring of events that must occur multiple times per cycle. And, Wintriss has expanded the static sensor-monitoring capabilities in DiProPac with auto reset, programmable bypass angles and minimum-actuation-time settings.
See also: Wintriss Controls Group LLC
Technologies: Pressroom Automation