Air-Distribution Manifold Assemblies for Stamping Applications
June 13, 2023
Ross Controls
Booth D40927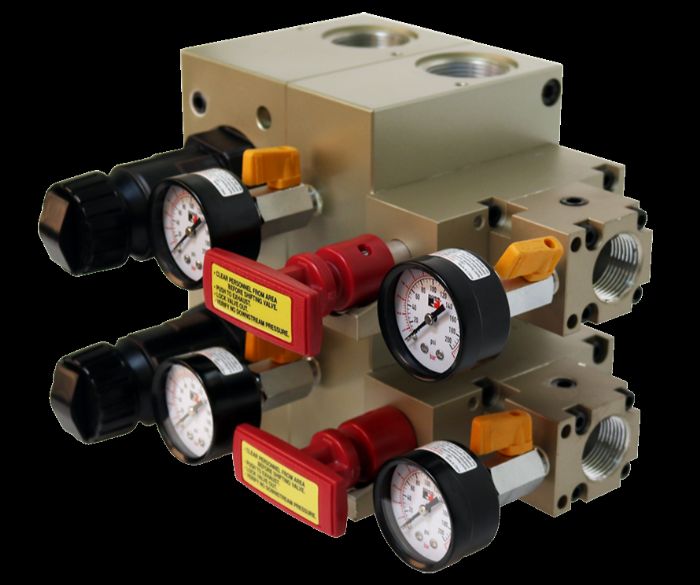 Ross air-distribution manifolds provide individual control of machinery with multiple pneumatic circuits. Mechanical presses may have clutch/brake, counterbalance, mechanical-device, automation-device or die-cushion circuits. Air-distribution manifolds allow centralized locations, independent pressure control and independent lockout capability for each pneumatic circuit.
Ross air-distribution manifolds are available in 0.75- or 1.25-inlet-port sizes and in two- or three-station assemblies. Individual manifold blocks of any size or configuration can be connected to make larger manifold assemblies to meet virtually any machine application. Each station circuit can be customer-specified to include pressure-regulation, check-valve or lockout-valve functions.
Gauges are provided for regulator setting as well as for confirmation of downstream energy removal when the lockout option is selected. Large 0.75- or 1-in. auxiliary ports are available on each station for unregulated main air connections (air tools or other devices). Small 0.25-in. auxiliary ports are available on each station for external pilot lines or test-port requirements. Maintenance and service are simplified with top-loaded regulators, cartridge check valves and base-mounted lockout valves, eliminating the need for removing manifolds or assemblies for service.
See also: Ross Controls
Technologies: Pressroom Automation