3D-Printed Nodes for Facade Construction
February 3, 2022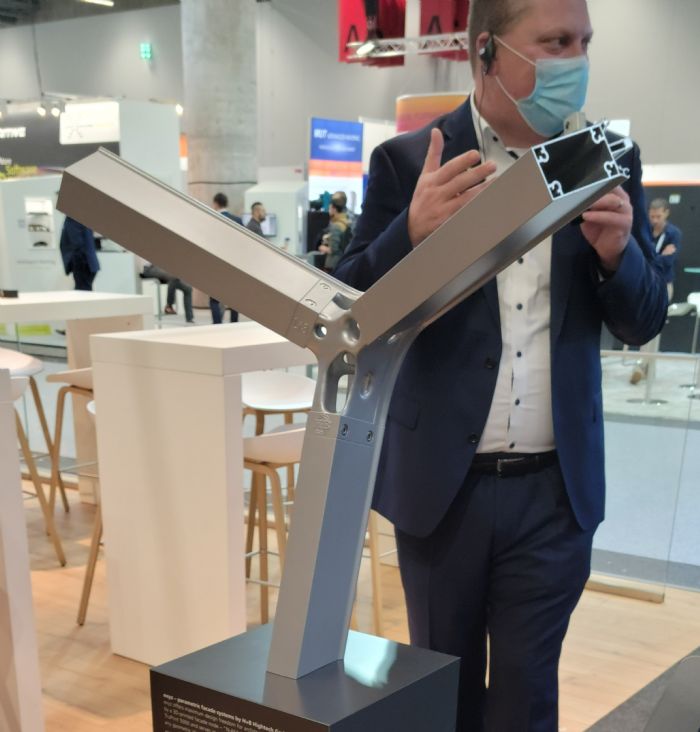 At Formnext…Trumpf displayed a variety of parts produced via its TruPrint lineup of AM machines. A unique 3D printing application on display: components of parametric facade systems from exyz, a German company, with facade nodes printed on a TruPrint 5000 in use at H+B Hightech GmbH. The nodes, designed by Lithium Designers GmbH and employing topology optimization to optimize part design and material usage, serve as universal connections that enable design and construction of architectural facades at various angles. By utilizing AM in general, and the TruPrint 5000 in particular, the node, referred to as N-AM_Li3, offers extreme facade-design flexibility combined with light weight.
The TruPrint 5000 features three 500-W lasers that simultaneously scan the entire build area to achieve optimal, seamless surface quality. Optional preheating of the substrate plate to temperatures reaching 500 C ensures high component quality and a robust laser-fusion process, according to company officials. In-process monitoring of powder coating, weld pool, machine status and productivity enables full control of component quality on a layer-by-layer basis.
See also: TRUMPF Inc.
Technologies: