Automation Solutions for Roll Forming
May 21, 2019
Samco Machinery, Toronto, Ontario, Canada, supplies roll forming machines and related products. Don Fanstone, the company's senior manager, provides examples of control and material-handling solutions that allow roll formers to get the most out of their lines.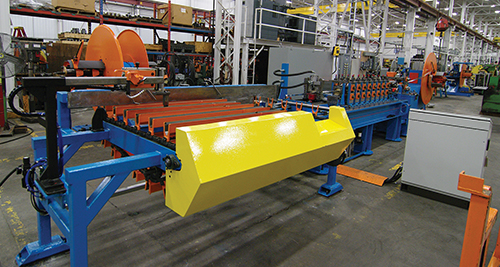 An automated count and stacking mechanism eliminates the need for operators to stop the line for part counting.
Programmable logic controllers that change roll former settings at the touch of a button, converting from one product to another in a matter of minutes, and automated material handling solutions that improve worker safe and reduce labor costs are advancing roll forming in a range of industries.
Presented here: two examples of new technology in action.
Automated Part Stacking and Counting Mechanism
A drywall cornerbead manufacturer recently upgraded a production line to a significantly higher operating speed. It did not take long to realize that one operator would not be able to stack, count the number of pieces to be boxed and staple the carton at the increased machine speed. Instead, the operator found it necessary to stop the line to double check the number of parts.
Using an automated count and stacking mechanism, periodic unscheduled line stoppage stopped. With increased machine speed and automated material handling of the upgraded line doing the counting and stacking of the parts, one operator now can insert and seal parts into a carton, boxing bundles of 20, 25 or 30 pieces without having to stop to check the count. As a result, production soared standpoint, eliminating manual handling of each part averted potential carpal-tunnel injury.