Third-Gen. AHSS, Press-Hardenable Steels Developed for Auto Applications
March 11, 2020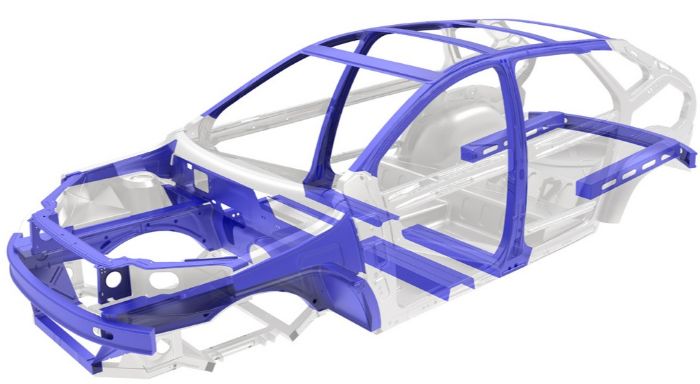 The use of strong and ductile advanced high-strength steels (AHSS) has driven new lightweighting solutions for automotive designs. To meet vehicle fuel-economy mandates, reduce emissions and increase passenger safety, steelmakers, including AK Steel, are investing in efforts to develop new types AHSS to meet these challenges.
For example, the development and proliferation of AHSS products, including third-generation AHSS, continues to grow, with these formulations designed to address the inverse relationship between strength and formability. According to the most recent Ducker Worldwide study commissioned for the Steel Market Development Institute, accelerated use and adoption of AHSS, which includes ultra-high-strength steels and third-generation products, into vehicle designs will continue through 2025 and beyond.
At AK Steel, the development of AHSS has involved a comprehensive and steady progression of products, expanding the company's portfolio of zinc-coated dual-phase steels and aluminum silicon-coated press-hardenable steel (PHS). This has resulted in the introduction of a variety of AHSS products for automotive lightweighting, including third-generation AHSS such as the NexMet family, which AK Steel launched in 2017.
Hot-dip-galvanized NexMet 1000 and 1200 AHSS products offer ultra-high strength while maintaining excellent formability for structural and exterior automotive body lightweighting needs, according to company officials, while maintaining the ability to be cold stamped. NexMet 440EX and 490EX, exposed-surface-quality products, combine high yield and tensile strength at thinner gauges to facilitate lightweight designs. The NexMet AHSS products reportedly are gaining traction in the market place, and AK Steel expects to supply its first production orders of NexMet 1000 third-generation AHSS for an upcoming new vehicle platform this year.
AK Steel also offers UltraLume press-hardenable steel (PHS), an aluminized Type 1, heat-treatable, boron steel intended for automotive steel applications where ultra-high strength (~1500 MPa), design flexibility and collision protection are key. These materials are hot stamped to produce ultra-high-strength parts, while simultaneously addressing forming and springback issues experienced in conventional cold-stamped high-strength steels. In addition, AK Steel is developing more steels to add to the UltraLume PHS family.
Technologies: Materials