Shape Corp. Debuts 'Virtually' Fossil-Fuel-Free Rollformed Bumper
June 12, 2023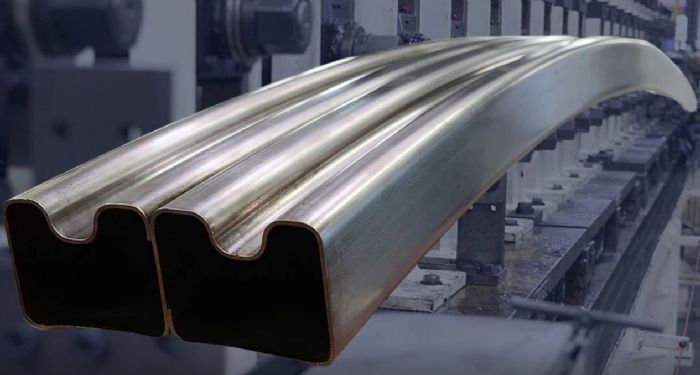 Shape Corp., Grand Haven, MI, has developed a virtually fossil-fuel-free rollformed-steel bumper fabricated from steel supplied by SSAB AB. The Swedish steelmaker employs its Hybrit technology to manufacture the steel, which, compared to the historically carbon-intensive process of steelmaking, bonds the oxygen from iron ore with hydrogen and results in water as a byproduct instead of carbon dioxide. The resulting product is virtually fossil-fuel-free, company officials say, and Shape executives note that the new bumper is the world's first of this type of automotive component.
As detailed in a Crain's Grand Rapids Business article, "There's a lot of excitement in the auto industry with going electric, but then the steel industry at the same time is going through this huge transformation," says Shape Corp. project manager Brian Oxley. "The fact that SSAB is making a huge investment in this new revolutionary technology is incredible."
Shape received its first trial batch of the new steel in 2022, and has conducted rigorous testing, including bendability, fracture characterization, material toughness, delayed fracture testing and welding evaluations, all indicating that the new bumper does not compromise material properties or performance. And, according to Oxley, the steel rollforming process lends itself to lightweighting with high-strength materials.
The article also notes that SSAB expects to start producing the new steel at commercial scale by 2026, and that its partnership contributes to Shape's own ambitious sustainability goals: By 2025, Shape aims to reduce energy use by 30 percent in all of its plants globally, and to achieve carbon-neutral operations by 2030, powered by 100-percent renewable energy.
See also: Shape Corporation, Ssab Hardox Corp.
Technologies: Materials, Other Processes