New Website Aims to Transfer Steel Technology to the Automotive Industry
September 1, 2011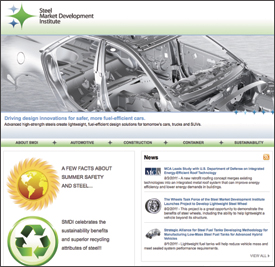 The Steel Market Development Institute (SMDI), Detroit, MI, has launched a new website designed to share steel-intensive solutions with the automotive, construction and container industries. The new site, www.smdisteel.org, provides information about the North American steel industry's market applications; research and reports on new product advancements; and the industry's commitment to sustainability.
Highlights of the website include:
• Updates on advanced high-strength steel research in the automotive market, including new technologies being used in body structures, wheels, bumpers and fuel tanks;
• Access to research, design aids and training opportunities in the construction market; and
• Expanded focus on the environmental and sustainable advantages of steel.
A global navigation bar at the top of the site's homepage enables visitors to move across a network of steel-related websites, including those for the Steel Recycling Institute, Autosteel and the American Iron and Steel Institute.
See also: X
Technologies: Materials