Join us for a networking breakfast celebrating the importance of women in the manufacturing sector. Hear how GE is ushering in a new era of manufacturing, merging hardware and software to reimagine how products are designed, made and serviced.
Guest Speaker: Jennifer Cipolla, Center for Additive Technology Advancement Leader at GE
Development Trends in Additive Manufacturing and 3D Printing, November 17, 8:30-9:30 a.m.
FABTECH 2016 Show Hours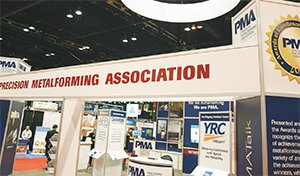 • Wednesday, November 16: 10 a.m.-6 p.m.

• Thursday, November 17: 9 a.m.-5 p.m.

• Friday, November 18: 9 a.m.-4 p.m.

To register to attend and for more information, visit www.fmafabtech.com.

Our panel of experts will explore the technology and materials driving practical solutions and innovations using 3D printing. The manufacturing environment is demanding more customization and faster solutions. Using available and affordable additive manufacturing technologies can increase manufacturing efficiencies of complex products, improve performance, decrease cost and reduce waste. The expert panel will take questions and provide answers; based on real-world case studies.

Panel: Carl Dekker, president, Met‐L‐Flo, Inc. (moderator); Jennifer Cipolla, Center for Additive Technology Advancement, GE; David Lakatos, chief product officer, Formlabs; Robert Henderson, director of additive manufacturing, Linear Mold & Engineering, Inc.; Bryan Crutchfield, vice president and general manager, Materialise USA
Advanced Manufacturing: Creating Competitive Advantages for Fabricators, November 17, 1:30 p.m.
This expert panel will discuss what it takes to remain competitive in today's environment and to succeed in the future of making things. Advanced manufacturing is high-productivity, high-profit, high-wage, technology-rich and relatively high value-added fabrication of globally competitive products that creates wealth and builds and sustains communities.
Panel: Diego Tamburini, Ph.D., manufacturing industry strategist, Autodesk; Jerry Foster, chief technology officer, Plex Systems; Lonnie Love, Ph.D., group leader, Oak Ridge National Laboratory Manufacturing Demonstration Facility
RUN4MFG 5K Walk/Run, November 18, 7 a.m.

Shop Talk with "Counting Cars" Cast, November 18, 9 a.m.

Welders Without Borders: Welding Thunder Team Fabrication Competition, November 16,

9 a.m.-5 p.m., and November 17, 7 a.m.-1 p.m.



Finally, Plan Now
…to attend these upcoming FABTECH events:
FABTECH 2017, November 6-9, Chicago, IL

FABTECH Mexico, May 2-4, 2017, Monterrey, Mexico

FABTECH Canada, March 20-22, 2018, Toronto, Ontario.

MF
Technologies: Coil and Sheet Handling, Fabrication, Lubrication