"Everyone in our facility—15 production-floor workers and another five office employees—reports to JobBoss," Gallagher says. "We have desktop computers running the software in the offices and two terminals out on the floor. And the more accurate the data they input the more accurate our estimates can be, whether we're looking at costs or schedules."
JIT Purchasing Helps with Cash Flow
Relatively speaking, "Skypark's projects are huge, and require a lot of cash payout at the front end," adds Dave Lechleitner, JobBoss' senior product expert. "So, cash management and just-in-time materials purchasing is critical. JobBoss lets Skypark know precisely when to order and schedule delivery of its raw materials." Once a bill of materials has been created and a job schedule developed, the software links the materials requirements to the operation they are required for. "We immediately know what the due date for that material should be," Gallagher says, "and when to order it and bring it in, based on when it will be needed on the shop floor."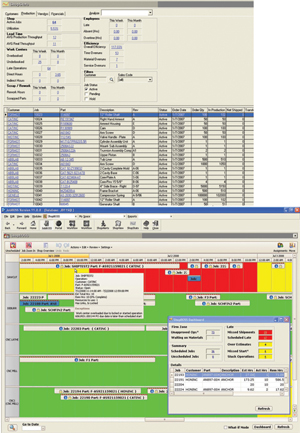 The JobBoss ERP system used at Skypark features several modules to manage every production operation at the company, from quoting to shipping. Shown here are screens from the ShopStats (top) and ShopBoss modules. ShopStats serves as a main dashboard that allows managers to oversee and direct all of the company's operations. It brings together all key data points that otherwise might require a shop to run as many as 20 separate reports. ShopBoss is an advanced scheduling module that operates as a visual scheduler so that managers can view graphically their shop's load versus capacity at any given time.
Gallagher is more than just the typical JobBoss user—he's the Southern California user-group leader for JobBoss. "He's not just a user," says Lechleitner, "Todd is a partner. As such, he has helped us, in the 11 years he's been using the software (for Apex Design Technology) develop new modules and functionality."
One area of software development near and dear to Gallagher has been ShopsStats, geared to deliver key business indicators to a company's owner and managers. "ShopStats really is the main dashboard as I look to manage the company's operations," says Gallagher. "It brings together in one central place all of that key data points that otherwise might require me to run as many as 20 separate reports."
ShopStats tracks data in four key areas—orders, production, vendor activities and financial reports. Hyperlinked data allow the owner or manager to monitor these key areas in real time.
Also included is a cash-flow tool, which lets Gallagher look forward at Skypark's cash position, taking into account traditional accounting information such as accounts payables and receivables, but also evaluating how manufacturing data might affect cash flow. Are there, for example, orders on the books that haven't shipped? And, when the orders do ship, how is cash flow affected? Are there expenses such as material or outside services associated with projects affecting cash flow, even if a purchase order has yet to be issued?
"Without one integrated software system managing and updating the data," says Gallagher, "data are stored separately and people spend a lot of time updating the data in each place. Our growth curve will require that I can immediately get snapshots of where we're at, so I can see how many jobs are on the floor, what the utilization rate of each work center is and if the work centers are over- or under-booked. This helps me manage and manipulate the workforce."
Advanced Scheduling Functionality
Gallagher also takes advantage of an add-on advanced-scheduling module to JobBoss, offered by Exact Software, called ShopBoss. "It's a visual scheduler," says Lechleitner, "that lets Todd view graphically his shop's load versus capacity at any given time."
"I can see load versus capacity on each work center in the factory," adds Gallagher. "This helps me make decisions—Do I want to schedule overtime? Do I need to reschedule a specific part of a job, and what's the overall impact to the work schedule if I do that? The scheduler functions in a 'what-if' mode until I commit to changes, so I can run through, very quickly, several different scenarios, save them and compare and contrast the net effects on the shop and on the customers. Then, I can decide which scenario works best.
"ShopBoss also lets me know, during the quoting stage of a job, if I can take on more work," continues Gallagher. "It will show me what has to happen in the shop in order to take on another job, where we need to adjust. With the click of a mouse, I can add resources, move people in and out of work centers, and increase or decrease the work hours dedicated to a job."
Gallagher describes how ShopBoss helped him respond to a customer request. "We had just supplied the customer with a production schedule, and it had made plans to visit our facility to witness acceptance testing of one of its assemblies. Then, the customer called and asked if it could schedule its visit a few days earlier.
"Using ShopBoss, I went into the schedule and, with just a few mouse clicks, quickly moved all of the production dates forward a few days. I was able to simply designate a nonwork day (Saturday) as a work day, and that automatically pulled everything into place. Without the ShopBoss functionality, we might have needed to generate 100 to 150 new travelers out on the shop floor. To manipulate each one by hand would have been a ton of work."
Quality Tracking
Finally, Gallagher describes how the JobBoss quality module has helped one company achieve quality registration, and will soon help the newer company get there.
"The quality module helps us quickly and accurately record rework and scrap, and perform our internal and external audits," he says. "We can track the costs associated with improving quality, costs of rework, identify trends, and determine, for example, if a certain work center or team of employees is having specific problems.
"It helped us efficiently become AS 9100 registered at Apex Design Technology," adds Gallagher, "and will soon help us reach ISO registration at Skypark." MF
See also: Exact JobBoss, Exact Software North America
Technologies: Management