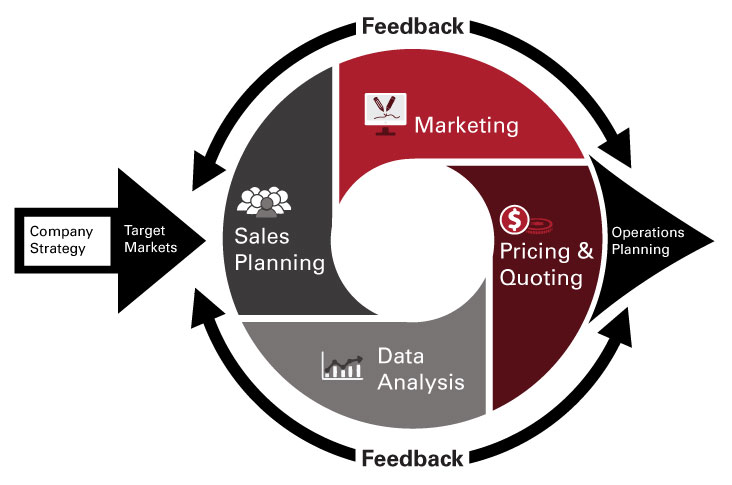 We find that very rarely do shops have a defined strategy in all seven of these areas. Instead, metal formers typically implement these steps informally within their organization, with little to no process or strategy to support them.
A good place to start: Use the data already being collected. To develop an effective sales process, management must understand the current state of the business. For example, analyzing the company's current request-for-quote (RFQ) hit-rate data across customers, jobs, type of work, etc., can provide insights to help drive strategy. A hit-rate analysis looks at the number of quotes per customer, number of quotes won per customer, total value of the business won and total value of the quotes requested.
During this analysis, managers can discover the types of customers from which it wins the most business, those from whom it rarely or never wins business, and determine if the company's business is appropriately diversified among customers and industries. This data, along with the company's overall business strategy, arms managers with the information needed to identify a unique set of sales opportunities and challenges, which will serve as the foundation for building an effective sales process.
In addition, by understanding the RFQ hit rate and the average revenue-per-quote won, a metal former can identify the number of quotes per month needed to achieve its revenue goals. By monitoring quote volumes, managers will be able to more accurately predict the company's future capacity and align operations to customer demand.
In addition to reviewing quote data, companies should gather and review data from the markets they supply. This market data, which can come from multiple locations, will assist in identifying future quote options, as well as assist in predicting quote and build timelines. Strive to truly understand the market you are selling to.
Marketing Supports Sales Activities
Too often, shops dismiss marketing activities because they believe that they already know all of the companies who might potentially buy from them. However, with all of thechange in the industry, there is no better time to leverage marketing activities to raise awareness of your company and its capabilities, and the value that you deliver to your target markets. Ideas for building awareness include implementing a client-relationship management (CRM) tool, updating and optimizing your website, leveraging social media, and attending and participating in industry events. All of these activities will help to support the sales team and increase opportunities to bid on new business.
Metal formers also should interact actively and closely with customers to help drive the sales process. Leadership should engage with customers to exchange information, better understand their needs and ask for additional business.
We have heard repeatedly from OEMs and Tier 1 suppliers across multiple industries: Building strong relationships is the key to securing additional business. By better understanding your customers' wants, needs and priorities, shops can identify and deliver increased value through innovative new processes, improved design, and by building expertise and knowledge.
Communicating Internally is Key
Another key to establishing and implementing a solid sales process is generating and evaluating continuous feedback. At the very least, shops should be looking at three critical areas.
Pricing and quoting. Are you hitting your goals? If not, look at the data to determine why and make the necessary adjustments.

Client plans. Are you hitting your client-level goals, and why or why not?

Finally, the overall sales strategy. Ensure that you succeed in the targeted product niches and markets, and that the company realizes the necessary financial returns in those markets.
Based on the company's performance in these three areas, managers may need to modify their strategy, because, like many parts of the business, the sales plan should be flexible and continuously improve over time.
When performed effectively, establishing and implementing a sales process will help level out the business highs and lows and will help your business succeed on the other side of the COVID-19 crisis. However, managers should not lose sight of maintaining operational efficiencies. To optimize profitability and avoid a business trough, metal formers must match demand (sales) with supply (operations). To do so, leadership must commit to the process, invest in the resources needed for sales and operations, and utilize data to support strategic planning and decision making. MF
See also: Harbour Results Inc.
Technologies: Management