One-Fourth of U.S. Manufacturers Considering Automating Due to COVID-19
May 12, 2020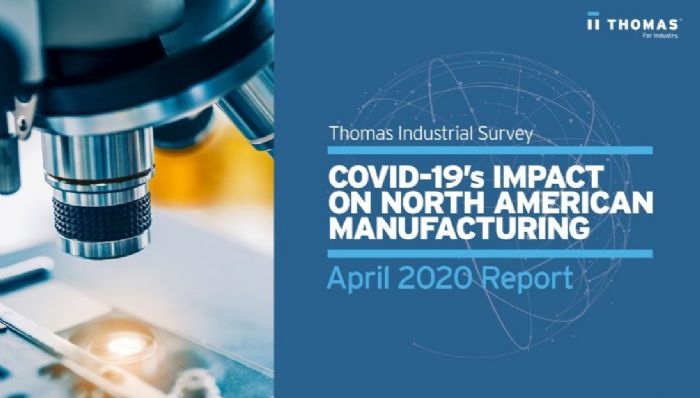 According to the April 2020 Thomas Industrial Survey, one in four U.S. manufacturers are considering expanding their industrial-automation efforts due to COVID-19. In addition, 64 percent report they likely will reshore manufacturing production and sourcing back to North America a 10-percent increase from the same sentiment reported in the March survey.
"The COVID-19 pandemic will fundamentally redefine how industrial companies approach their supply chains and will further advance the digital transformation of manufacturing," says Tony Uphoff, president and CEO of Thomas.
Among additional survey findings, while 41 percent of manufacturers predict a decrease in demand resulting from COVID-19, 91 percent express confidence that the sector as a whole will recover; 56 percent have not laid off employees, and 30 percent of companies are actively hiring; and 64 percent of manufacturers report that their business is affected by the shutdown orders impacting other non-essential businesses, with the transportation (77 percent), automotive (75 percent), construction (70 percent), and agricultural (69 percent) sectors most drastically affected.
Regarding financial aid, 63 percent of the manufacturing companies surveyed have applied for financial assistance. Of that group, 60 percent have applied for the Paycheck Protection Program, 17 percent for Economic Injury Disaster Loans, and 9 percent for Debt Relief and Express Bridge Loans from the Small Business Administration.
Technologies: Management