Conference Highlights
As always, this year's edition of FABTECH offers a well-rounded schedule of keynote presentations, leadership-themed panel discussions and technical seminars. These sessions, meant to complement the showgoer's experience on the exhibition floor, are provided by industry experts on topics designed to increase productivity and to provide metal formers and fabricators that elusive competitive edge.
FABTECH Keynotes and Leadership Exchanges
Tuesday, November 8
8:30-10 a.m.
FABx Tech Talks
A Panel Discussion
A lineup of experts will share insights on emerging trends and innovations changing the way businesses operate. As manufacturing processes are evolving at a rapid pace, it has become crucial for fabricators to leverage these innovations to stay competitive. Includes a special appearance from Bill Carlton, owner/mastermind of Ekstensive Metal Works, featured on the popular reality-TV show Texas Metal.
12:30-1:30 p.m.
Leadership Exchange: Advanced Manufacturing Innovation & Opportunities
A Panel Discussion
Innovation in manufacturing can take many forms, including new technology, changes in the supply chain, and product and process improvements. Innovation offers many important advantages to businesses and often is key to outperforming the competition. Leading experts will share insights on innovative and disruptive technology that manufacturers can use to create cutting-edge products.
Wednesday, November 9
9-10 a.m.
Winning the Manufacturing Race
Brad Keselowski, owner, Keselowski Advanced Manufacturing (KAM), championship driver, co-owner of RFK Racing
Keselowski is fanatical about manufacturing and technology. During his keynote, he will highlight his ownership and operation of Keselowski Advanced Manufacturing, as well as his unique standing as a champion driver in the NASCAR Series. That understanding, coupled with his passion for technological innovations, led him to build KAM. He will share his experiences where technology, such as AM, can help companies win the race and be impactful not only within automotive, but across multiple sectors.
12:30-1:30 p.m.
Leadership Exchange: Planning for the Future of Work: How New Technology is Redefining the Workplace
A Panel Discussion
With the silver tsunami of thousands of boomers retiring out of manufacturing today and the lack of young people entering the manufacturing workforce, manufacturers are scrambling to fill production demands, keep equipment running and digitalize their organizations. In this panel discussion with four industry experts and enterprise talent leaders, we bridge the gap between technology and vision.
Thursday, November 10
9-10 a.m.
The One & The Nine
Jake Wood, executive chairman of Team Rubicon, founder and CEO of Groundswell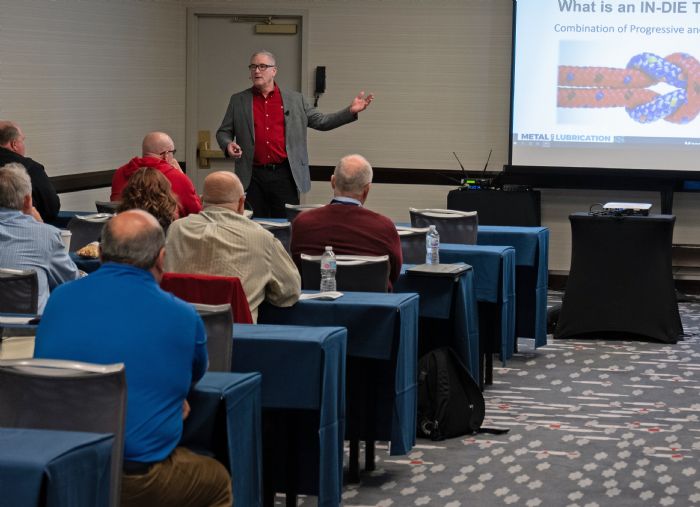 For every 100 people in a typical organization or on your team, there are 10 who shouldn't even be there, 80 who at their best have a neutral impact, nine who perform exceptionally, and one who is a true leader capable of taking command and creating a winning team or culture. This reality is forcing organizations to rethink what they know about leadership, change management and risk. Using his own remarkable journey as an athlete, Marine scout sniper and co-founder of Team Rubicon, Jake will explain how to find and build the team needed to win life's battles and become the "one" others look to.
12:30-1:30 p.m.
Leadership Exchange: Considerations to Improve Your Cybersecurity Strategy
A Panel Discussion
Cyberattacks and data breaches are growing with greater sophistication. It is only a matter of time before your organization faces a serious cyber incident. Companies and organizations have been harmed by theft of intellectual property, trade secrets and other highly valuable information. Discussion topics include understanding the cybersecurity risk in relation to your organization, integrating a strategy across personnel, technical security, information assurance and physical security, and establishing protective monitoring to prevent and deter the "insider" threat.
FABTECH 2022 Stamping Sessions
Tuesday, November 8, 2022
8-9:30 a.m.
S10—Metalforming Industry Outlook: The Good. The Bad. The Opportunity.
Laurie Harbour, Harbour Results, Inc.
Manufacturers are facing unprecedented challenges and opportunities. This, combined with the instability in the marketplace caused by COVID, has created a dynamic business environment. Harbour Results will use data collected through the PMA Metalforming Insights surveys to provide a metal forming industry outlook and shed light on what the best-in-class are doing to improve their competitiveness.
10-11:30 a.m.
S11—Metal Stamping Press Maintenance Best Practices to Maximize Performance
Jeff Fredline, MECO Corp.
This presentation discusses the components and procedures for productive/predictive metal stamping press maintenance in 2022. More than ever before, to be competitive in today's metal stamping environment you must employ the highest level of effective pressroom maintenance procedures. This presentation will cut through the "noise" to the essence of what is critical to excel in today's environment.
12-1:30 p.m.
S12—Dealing with Off-Center Loading in Stamping Operations
David Diaz-Infante, Ph.D., Nidec Press & Automation
Off-center loading often leads to issues on the press, the die sets and the formed parts. Currently, this phenomenon is gaining particular attention from stampers around the world due to its significance when dealing with high-strength materials. Thus, it is crucial to understand what should be done to face this challenge. In this session, stampers will learn ways to identify, estimate, mitigate and withstand off-center loading in their processes.
2-3:30 p.m.
S13—Maximize Your Metalworking Fluids—Cost, Safety, Performance and Re-use
Bob Anderson, Tower Metalworking Fluids
Explore methods to ensure you achieve the lowest lubricant cost with the best possible performance. Reduce waste through best-practice application and lubricant-reclamation programs. Maximize your lubrication health and safety profile to help ensure that you have the best environment for your team and facility.
Wednesday, November 9, 2022
8–9:30 a.m.
S14—Lightweight Sheet Metal for the Automotive Industry
Kidambi Kannon, Ph. D., AutoForm Engineering USA, Inc.
Lightweighting in automotive appli­cations provides for reduced carbon emissions, increased occupant safety and improved vehicle performance. In this presentation, learn the history and current usage status of sheet metal alu­minum grades and quenchable steels. The presentation also provides an overview of technologies for the pro­duction of sheet metal components: cold, warm, and hot forming of alu­minum; and press hardening of quenchable steels. And, learn digital engineering best practices for the engi­neering, simulation and validation of the above production processes.
10-11:30 a.m.
S15—Sensors for Die Protection— Make Die Crashes a Thing of the Past
Jim Finnerty, Wintriss Controls Group LLC
Die-protection systems have been around for decades. Recent advances have made these important monitoring devices more powerful and more forgiving. Attendees will learn how to get the most out of a die-protection system. Finnerty details the proper use of control functions and features and identifies the three most important factors to consider when selecting a system. You also will learn how to select and properly apply the right sensor for any application. He explains the advantages and limitations of each sensor type, and provides tricks and tips for sensor selection, installation, wiring and maintenance.
12-1:30 p.m.
S16—Automatic In-Die Part Quality Monitoring & Tool Adjustments
James Barrett, Link Electric & Safety Controls
Implementation of part measurement, die adjustment and part tracking can result not only in 100-percent verification of critical part features, but also in significantly increased machine utilization, accurate production and scrap rates, and more reliable die protection. Learn the practical methods to select, apply and integrate sensors and control systems in order to fulfill accuracy and quality requirements.
2-3:30 p.m.
S17—Creating Operational Excellence in the Press Shop Through Automation
Will Healy III, Universal Robots
Part quality issues and missed production quotas can sink profitability in a competitive marketplace. The same problems reappear but due to stress, lack of training or hard delivery deadlines we struggle to find the time to solve the root cause of the problem. The challenge of workforce retirement drives us to understand how to integrate new generations into the press shop and successfully drive culture change in the organization. In this presentation, we will discuss how to systematically achieve operational excellence using best practices and technology to improve up-time and eliminate nuisance stops. Drawing on more than a decade of personal experiences, successful philosophies will be offered to overcome challenges in metal stamping production. When operational excellence is achieved, manufacturers find that they have improved their competitive position, are more in touch with their business, have reduced costs and waste, have eliminated die crashes and are boosting productivity. MF
Technologies: Management