Unique in 2021, FABTECH co-locates with RAPID + TCT, North America's largest 3D printing event. Held a floor below METALFORM in the East Building, RAPID + TCT (visit www.rapid3devent.com for details) offers the latest and greatest in metal and nonmetal additive manufacturing technology. MetalForming's sister publication, 3D Metal Printing, sets up shop in booth E7049 at RAPID + TCT.
Conference Highlights
FABTECH offers a robust conference schedule headlined by industry experts on topics designed to increase productivity, inspire you and your colleagues, and keep your organization ahead of the competition. Find out details below, including special FABTECH keynote presentations scheduled for each day of the event.
FABTECH 2021 AT A GLANCE
September 13-16
McCormick Place, Chicago, IL
SHOW HOURS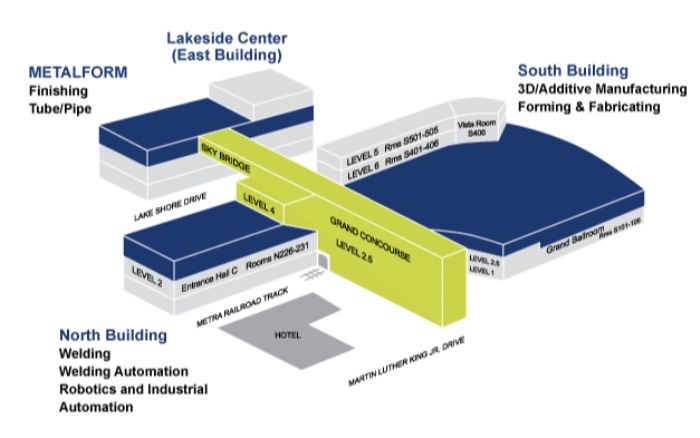 Monday, Sept. 13: Lakeside Center (East Building) 9 a.m.-6 p.m.; rest of show,
10 a.m.-6 p.m.

Tuesday, Sept. 14: 9 a.m.-5 p.m.

Wednesday, Sept. 15: 9 a.m.-5 p.m.

Thursday, Sept. 16: 9 a.m.-3 p.m.

REGISTRATION

Show-floor admission is complimentary if registering prior to Sept. 9, 2021. After the deadline and onsite, registration fee is $50. Visit www.fabtechexpo.com for show details and to register.

EXPERIENCE CHICAGO

Visit www.choosechicago.com for information on the sights and sounds of Chicago, including dining, nightlife, shopping, local attractions and more.

Tuesday, September 14

8:30-9:30 a.m.

Into the Unknown: How Leadership, Ingenuity and Perseverance Put a Rover on Mars

Adam Steltzner, Leader & Chief Engineer, NASA Mars 2020 Mission, Rover Perseverance

Only Adam Steltzner and his talented team at Jet Propulsion Lab could follow their Curiosity rover success with the stunning Mars 2020 mission to land the rover Perseverance on the red planet. In his exhilarating keynote, Steltzner shares his own innovation challenges, leadership struggles and flawless execution. Most importantly, he shows how you can overcome daunting obstacles in times of uncertainty and change.

12:30-1:30 p.m.

State of the Industry: Navigating into 2022

A Panel Discussion

Manufacturers face pressing questions as they strive to meet needs in supply, labor and new technologies. What does the state of steel look like as we wrap up 2021 and into 2022—prices, capacity, tariffs? What strategies can be implemented? What can shops do to maintain material inventories and minimize risk? What challenges are manufacturers facing in finding and keeping a qualified workforce? A panel of experts will focus on addressing these questions and more.

Wednesday, September 15

8:30-9:30 a.m.—Keynote

David Ankin, CEO of ToyMakerz, Inc.

A hands-on entrepreneur, former stunt man, motorcycle racer and custom motor-vehicle fabricator specializing in one-off custom builds and OEM enhancements for anything with wheels, Ankin is living his dream creating everything from monster trucks to race cars on his TV show of the same name, ToyMakerz. On stage, Ankin will share his secrets to success as a leader in the fabrication business and how his father has been his biggest inspiration.

12:30-1:30 p.m.

Leadership Exchange: Why Can't They Just Work Together?

Importance of Mobile Robot and Standard Robot Interoperability to Increase Adoption

A Panel Discussion

As demand grows for automation, companies increasingly are requiring robots for specialized tasks within logistics and manufacturing applications. Therefore, it is imperative that robots and mobile robots seamlessly work well together. This panel discussion features speakers from leading robotics and logistics companies who will update attendees on efforts to develop technology that allows organizations to deploy robots and autonomous mobile robots from multiple vendors within the same environment.

Thursday, September 16

8:30-9:30 a.m.

The Greatest Machines Ever Made: Cultivating the Next Generation of American Workers

Adam Genei, owner of Mobsteel and Detroit Steel Wheel Co.

Genei will discuss his workforce-development formula, which has created a positive, invested and competitive team, embodying the "outwork everyone" attitude. His talk aims to prepare our next workforce generation for navigating its way through our trades and businesses.

11 a.m.-noon

Leadership Exchange—Attracting & Preparing the Next Generation of Manufacturing Talent

A Panel Discussion

The skills gap could lead to a shortage of as many as 2.4 million manufacturing workers in the next decade. How can we get involved and share awareness to encourage the next generation to pursue manufacturing careers? This panel of experts will share how to get engaged, inspire and prepare the next generation of our manufacturing workforce.

FABTECH Stamping Sessions

Monday, September 13

8–9:30 a.m.

S10: What's Holding You Back?

How to Optimize Your Press Line

Robert Meyer, Nidec Minster Corp.

Die maintenance and die repair are not the same, yet many stamping companies combine the cost of die maintenance with the cost of die repair to simplify reporting. This presentation examines the differences between repair and maintenance, and the hidden costs within each. The definitions, benefits and drawbacks for four common types of maintenance programs—reactive, preventive, predictive and proactive—also will be presented. Attendees will learn to distinguish between the cost of maintenance and the cost of repair, and how to measure and report each properly in order to cost-justify a robust die-maintenance program that reduces the cost of die repair.

10:30 a.m.–noon

S11: Understanding Servo Metal Stamping Presses, Proper Usage, Troubleshooting and Maintenance

Jeff Fredline, MECO

This course will review servo-press technical features and functions, explaining servo-press characteristics such as high torque availability at low speeds; programmable stroke and speeds; and pendulum, dwell and crank motions. Also covered: servo presses vs. conventional presses, their proper use, press monitoring, and troubleshooting and maintenance procedures.

1–2:30 p.m.

S12: Heat Treating Fundamentals, Vacuum Heat Treating and Applications

Tim Steber, Solar Atmospheres

This presentation will walk through this environmentally friendly process and describe specific applications. Examples of several materials and processes will be showcased through photos of actual product applications.

3:30–5 p.m.

S13: 5 Steps to Creating Operational Excellence in the Press Shop

Will Healy III, Balluff Worldwide, and Jason Hughes, Balluff Inc.

Part-quality issues and missed production quotas can sink profitability in a competitive marketplace. The same problems reappear, but due to stress, lack of training or hard delivery deadlines, we struggle to find the time to solve the root cause of the problem. The challenge of workforce retirement drives us to understand how to integrate new generations into the press shop and successfully drive culture change in the organization. In this presentation, we will discuss how to systematically achieve operational excellence using best practices and technology to improve uptime and eliminate nuisance stops.

Tuesday, September 14

8–9:30 a.m.

S14: Planning and Estimating Stamping Dies

Jeff Bennett, Tool Planners, Inc.

This presentation will explore the procedures and technologies required to successfully plan and price metal stamping dies. Emphasis will be placed on how to improve accuracy, save time and reduce costs related to die quoting. We'll walk through a sample estimate including quote request, production-part design, process feasibility, die-construction specifications and standard die-cost estimating methods. We'll also highlight key die-quoting metrics and ideas for continuous improvement.

10:30 a.m.–noon

S15: Processing Parts for Progressive Dies–Evaluating Strip Layouts

Peter Ulintz, Precision Metalforming Association

Several different progressive-die strip layouts can be derived for any given part. But how does one know which process is the best? This presentation proposes a strip evaluation and ranking method for progressive-die strips and various part-carrier designs.

1–2:30 p.m.

S16: Processing Parts for Progressive Dies–Engineering Principles and Design Guidelines

Peter Ulintz, Precision Metalforming Association

Progressive stamping dies are exposed to large internal and external forces, shocks, and vibrations that must be mitigated during the die-design process. This presentation addresses key engineering principles and design guidelines that should be considered during every die design. Topics include off-center loading, horizontal die forces, snapthrough loads, the effects of reverse tonnage, material holddown and stripping systems, stock-guiding and lifting systems, and designing dies with maintenance in mind.

3:30–5 p.m.

S17: Automatic In-Die Part-Quality Monitoring and Tool Adjustments

James G. Barrett III, MSEE, Link Electric & Safety Control

Implementation of part measurement, die adjustment and part tracking can result not only in 100-percent verification of critical part features, but also in significantly increased machine utilization, accurate production and scrap rates, and more reliable die protection. Learn the practical methods to select, apply and integrate sensors and control systems to fulfill accuracy and quality requirements.

Wednesday, September 15

8–9:30 a.m.

S18: Deep Drawing Cylindrical Shells: Tooling Principles and Design Guidelines

Peter Ulintz, Precision Metalforming Association

This presentation examines the fundamental principles of deep drawing of cylindrical shells. Topics include the number of drawing steps required, blank-size estimation, draw-reduction limits, redrawing, reverse redrawing and wall ironing. Die-design guidelines also are presented, including the influence of material thickness and material type, selecting punch-nose and die-entry radii size, the application of beveled corner profiles for redrawing, the influence of thickness distributions, and estimating blankholder pressure.

10:30 a.m.–noon

S19: Deep Drawing Rectangular Box Shells: Tooling Principles and Design Guidelines

Peter Ulintz, Precision Metalforming Association

This presentation examines the fundamental principles of deep drawing of rectangular box shells. Topics include the number of drawing steps required, blank-size estimation, draw-reduction limits, redrawing, reverse redrawing and wall ironing. Die-design guidelines also are presented, including the influence of material thickness and material type, selecting punch-nose and die-entry radii size, the application of beveled corner profiles for redrawing, the influence of thickness distributions, and estimating blankholder pressure.

1–2:30 p.m.

S101: Reducing Cost and Risk to Timing Associated with Tool Buyoff

Kidambi Kannan, Ph.D., AutoForm Engineering USA, Inc.

Tool buyoff is the culmination of a complicated process of engineering and building of stamping die sets. Product design, material, process, press line, etc., all influence the final outcome; variabilities in material and die/plant conditions add risk to cost and timing. Simulation is mainstream in engineering stamping dies/processes. This also can be leveraged early to estimate the real capabilities of dies and processes, toward early opportunity for correctives, timely buyoff and cost/time management.

3:30–5 p.m.

S102: Evaluating Your Lubricants for Performance and Safety

Bob Anderson, Tower Metalworking Fluids

This presentation provides an overview of how to evaluate lubricants for performance and safety. Topics include key drivers of the when, why and what to look for in evaluating process lubrication. The presentation also offers an overview of new lubrication technologies, corrosion-protection advancements, EHS considerations and methods of capturing trial data to evaluate the financial impact of a lubricant or process change. MF

Industry-Related Terms: Center

,

Corner

,

Die

,

Drawing

,

Forming

,

Scrap

,

Stripping

,

Strips

,

Stroke

,

Thickness

,

TorqueView Glossary of Metalforming Terms

Technologies: Management