Two Scholarship Recipients to be Recognized at 2021 AMUG Conference
March 31, 2021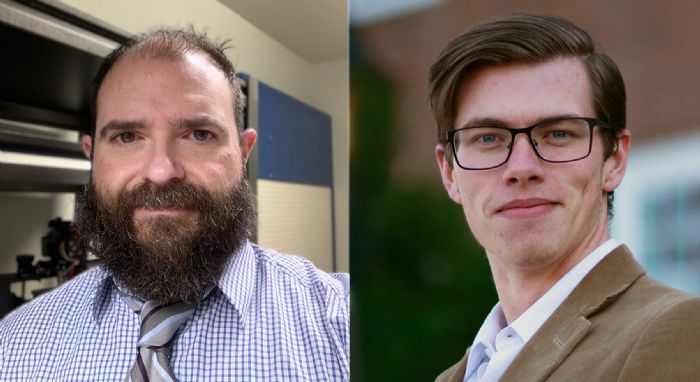 The Additive Manufacturing Users Group (AMUG) announced the two recipients of its 2021 scholarships, to be recognized at the 2021 AMUG Conference, May 2-6 in Orlando, FL. John Sorvillo, director for Westwood Prep Academy at New Beginnings, Youngstown, OH, has been awarded the Randy Stevens Scholarship. Sean Dobson, pursuing a Ph.D. in material science at the University of Cincinnati, Cincinnati, OH, has been awarded the Guy E. Bourdeau Scholarship.
As scholarship recipients, Sorvillo and Dobson will attend the AMUG Conference, and also take the stage to present their work on Tuesday, May 4.
The scholarships honor and recognize students and teachers that demonstrate a passion for additive manufacturing (AM). The 2021 recipients demonstrate the passion in two ways: a dedication to advancing the technology and a commitment to advancing individuals through the technology.
"Educators are using AM to expand minds and stretch the boundaries of education," says Brett Charlton, chair of the AMUG Scholarship Committee. "Students are tackling significant issues and expanding the applications of AM in the world. The applications were numerous, amazing and inspiring. The committee had quite a challenge in making its selections, but it determined that John Sorvillo and Sean Dobson epitomized what the scholarships represent."
Sorvillo, a licensed elementary school teacher, has been in educational administration for nearly a decade. At the Westwood Preparatory Academy, the students are in residential care, most under court custody with no familial provisions. As a director at the academy, Sorvillo builds programs, teaches and counsels with the goal of inspiring hope through education.
"We try to leverage that education into their therapy, bringing us back to inspiring hope in them," he explains. "We set them up to succeed in our classrooms. The more they achieve, the more they believe in themselves."
Initially, the academy had one 3D printer, but struggled to incorporate it into instructional lessons. With Sorvillo's efforts, it now boasts four printers that function as conduits for experiencing life skills, such as teamwork; acquiring technology skills, such as CAD design; and gaining 'soft skills' needed to function in society.
"As amazing as the printers are," Sorvillo says, "it's the design and collaboration workstations that really make the difference. Our 3D printing program has played a huge role in creating inspiration. We're able to show at-risk students a whole new way of learning. This technology has opened avenues of teaching that we never imagined. We are able to positively impact many facets of our student's lives. 3D printing has given us the ability to make our kids a positive force in our community."
Sorvillo has extended classroom education through partnerships, collaborations and grants where the students' actions benefit others and themselves.
As an undergraduate student in Mechanical Engineering at the University of Louisville, Louisville, KY, Dobson's introduction to AM occurred during an internship in Gulfstream Aerospace's 3D Printing Laboratory, and he also has discovered an affinity for sharing that passion with others through training, tours and collaborations.
"I left the internship with a newfound desire for AM," Dobson says. "There is an ingrained feeling of pride working in a field that can bring so many people together and engage the young and old in a STEM field."