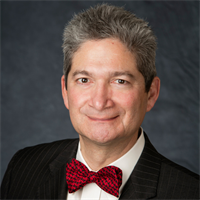 Dave Andrea
The State of the North American Automotive Supply Base
April 1, 2013

The North American supply base is fundamentally strong, with great near-term opportunities. Suppliers have shown great fortitude through the recession of 2008 to 2009 and resilience through the Japanese and Thailand natural disasters, and must exhibit their resourcefulness in meeting light-duty vehicle-production projections for 2013. The challenge: Supporting the forecasted 15.9 million units of production in 2013, a 600,000 incremental increase over 2012.
How Do We Get There?
Through 2013, suppliers will face capacity constraints, labor issues, extraordinary operating costs, capital-expenditure requirements and other issues. In addition, overall corporate revenue and margins will be under pressure as regional markets, particularly in Europe, remain a large risk for suppliers. Nearly one-third of OESA respondents to the January 2013 OESA Automotive Supplier Barometer survey noted that their European-operation revenues have fallen off more than their North American operations have grown.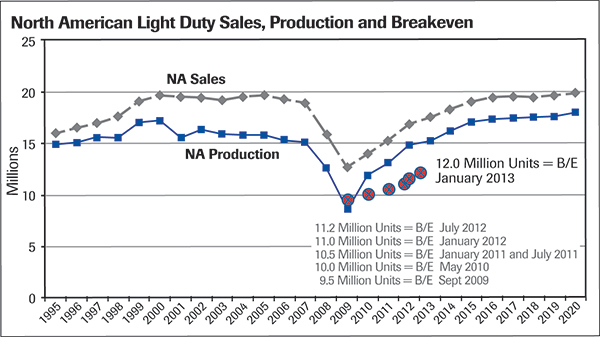 North American industry-level breakeven points have grown by 21 percent, from 9.5 million units in 2009 to 12 million units in 2013. This increase pales in comparison to the 85-percent increase in production expected to occur in 2013 over the 8.6 million units manufactured in 2009.
There are implications in both regions. Publically owned suppliers are being proactive and reporting write-offs for European restructuring. As one OESA member noted in a recent discussion, "We are reducing headcount and facilities as opportunities present. However, it is difficult to downsize with social costs." That said, after the near-death experience of 2009, suppliers will remain proactive in keeping their break-even points well in check.
OESA members have noted that North American industry-level break-even points have grown by 21 percent, from 9.5 million units in 2009 to 12 million units in 2013. This increase pales in comparison to the 85-percent increase in production expected to occur in 2013 over the 8.6 million units manufactured in 2009. This will help protect supplier margins, at least in North America. For bankers looking to lend into the industry, consider this: Industry volume would need to de-cline by 25 percent (15.9 million to 12 million units) for the overall supplier industry to run up against the breakeven point.
Production Constraints in the Supply Chain
While North American production volumes are strong, suppliers face major issues over the next three years as they near prerecession and record production levels, and must support a record number of new vehicle launches. Overall, the supplier industry is running at approximately 82-percent capacity utilization. The top 25 percent of OESA members—as judged by capacity utilization—are running their operations at well over 90 percent of capacity. These tight capacity-utilization rates indicate that there will continue to be production constraints within the supply chain. These constraints will not be systemic but will show up as various "pinch points" throughout the supply chain.
Compared to Just Three Years Ago
…would you rather be a part of an industry that is:
• Running at 40-percent under-utilized across the board, or one dealing with 20 percent of the industry that is running full-out;
• Announcing three major reductions in workforces per week, or fighting for the job candidate with three completive job offers; or
• Dealing with 50 percent of the suppliers that are frozen out of the capital markets, or running the workarounds to deal with five percent of the suppliers that are on watch lists while simultaneously launching 50 new products and supporting 600,000 units of incremental production?
The answer is easy. And in the context of an improving economy and the result of a great deal of hard work by suppliers, OEMs, dealers and others up and down the value chain, we can say that the current state of the North American supply base is fundamentally strong with great near-term opportunities.
On the positive side, unlike past years where suppliers' responses might have been to push overtime and machine operating time, rather than delay or scale back investment decisions, suppliers are boosting production and engineering capacities. For 2013, suppliers are adjusting workforce shifts, adding plant and equipment, optimizing production throughput, increasing supplier-development activity and improving schedule and release information and communication. Even with these increased efforts, there is a general expectation that material markets, powertrain/engine components and chassis systems will remain tight in supply. There also will continue to be constraints in electronics and capital equipment, two sectors that have shown constraints since the 2010 recovery.
Showing flexibility, fewer OESA members believe they will face increasing out- and inbound expedited freight, component shortages and raw-material shortages in 2013. However, compared to 2012, a greater number of suppliers believe they will face production overtime premiums, skilled labor shortages and internal manufacturing-capacity constraints. Most concerning, 24 percent of the respondents to the January 2013 OESA Automotive Supplier Barometer indicate concern about available liquidity in their sub-tier supply base.
Credit Market Favorable
In a major change from 2009, suppliers report a significant improvement in the credit markets and believe there is available credit to support short-term production increases and long-term structural improvements. Seventy-one percent of respondents indicate a favorable lending environment without any significant issues. This compares to 55 percent that responded in the same in 2012. Likewise, the percent of suppliers identifying continued constraints in the lending environment declined from 32 percent in 2012 to 17 percent in 2013.
What remains as a red flag is the concern about the liquidity of sub-tier suppliers. Liquidity concerns result from a combination of operational inefficiencies and the supply of credit. Suppliers who see this in their sub-tiers are increasing sub-tier monitoring and supplier development actions, and are providing direct injections of capital.
Overall, suppliers show confidence that they can access capital for their broad range of needs. Offshore manufacturing operations and M&A actions are the only two areas where suppliers express less confidence in their access to credit. Generally, smaller firms have less confidence in their ability to tap the credit markets for needed capital than do larger firms.
As one OESA member recently noted, "It is still hard to get credit, the banks are still steering clear of smaller automotive parts suppliers."
MF
Technologies: Management