Next Generation Leaders Learn How to Educate Congress and the Media
August 1, 2008
Members of PMA's Next Generation Leaders Division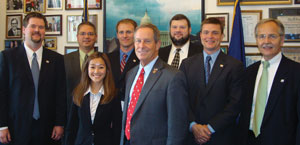 Members of PMA's Next Generation Leaders Division meet with Congressman Joe Wilson (SC-02). From left to right: Matt Emery, Jeff Aznavorian, Anny Truong, Jim Zawacki, Congressman Wilson, James Barrett, Thad Reavill and Bill Gaskin.




attended the third annual Washington, D.C., fly-in on June 16-17. The event kicked off with training sessions on how to communicate effectively with members of Congress and the media, followed by a networking reception and dinner that included an election overview by political pollster Alexander Gage, CEO of Target Point Consulting Inc. Gage discussed the political advantages and disadvantages the presidential candidates face as they head into the 2008 election.
Next Generation members also met with delegates from more than 20 congressional offices to urge lawmakers to support pro-manufacturing legislation and policies. The groups lobbied on behalf of trade-enforcement legislation, health-care reform, workforce training programs and consumer standing.
Several fly-in participants also spoke with media representatives about issues challenging manufacturers. Business Week interviewed Brian Swanson of Globe Tech LLC, Jeanne Swanson of E&E Manufacturing Co., Inc., and Jeff Aznavorian of Clips and Clamps Industries. Jamie McGregor and Rodney Hickman, of Morgal Machine Tool Co., were interviewed by WHIO-TV in Dayton (CBS) and the Dayton Daily News.
Division members will meet September 14-17, in Grand Rapids, MI, in conjunction with the ICOSPA 2008 Congress. A special roundtable session and international networking session are planned.
Next Gen activities are open to anyone from a PMA member company on a path of professional growth—a new or emerging leader—who will benefit from interaction with others in similar stages of leadership development. To learn more about the Next Gen event during the ICOSPA Congress and other division activities, visit www.pma.org/division/nextgen or contact Mandy Basel at 216/901-8800, mbasel@pma.org.
Technologies: Management, Training