New Service Helps Manufacturers Plan an Implementation Program
April 1, 2013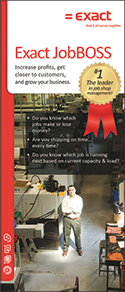 Exact, Minneapolis, MN, has introduced its JobBoss Blueprint Implementation Service, to help ensure successful implementations of JobBoss software. The service is based on standards established by the world-recognized authority on project management, the Project Management Institute.
Key elements of the implementation service include:
• Project launch, to educate staff of the benefits expected with the application.
• Preparation and planning, to create a project timeline that meshes with the company calendar and minimizes the impact on the business.
• Testing and training, to minimize issues on day one of a new application.
• Project evaluation, mutually agreed upon checkpoints and milestones.
Exact America: 800/468-0834; www.exactamerica.com
See also: Exact JobBoss
Technologies: Management