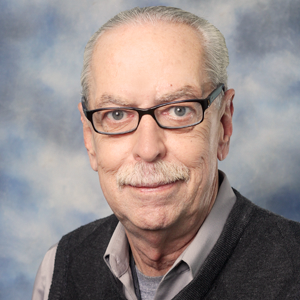 Bruce Broman
Creating a New Deal for Middle Managers
August 1, 2012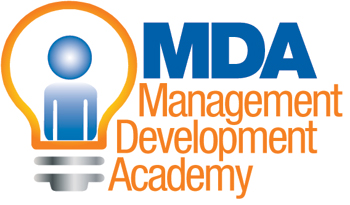 The Precision Metalforming Association's (PMA) has launched its Management Development Academy & Network (MDA), a three-part series of forum-style workshops, instructional seminars and structured networking sessions designed exclusively for mid-level managers looking to advance their business and leadership acumen. Attendees will learn practical skills and strategies useful for analyzing markets, conducting marketing research and managing assets and budgets. Also on the agenda is coursework aimed at helping mid-level managers develop and manage the supply chain, financial and customer accounts, contracts and human resources. MDA Enrollees learn through case-study analyses, facilitated brainstorming, lectures and lesson presentations, roundtable discussions, expert panels and structured forums, testimonials, guest speakers, instructional exercises, peer-to-peer breakout sessions, applied projects, and multifaceted group interaction, learning and networking.
Inaugural Session a Big Hit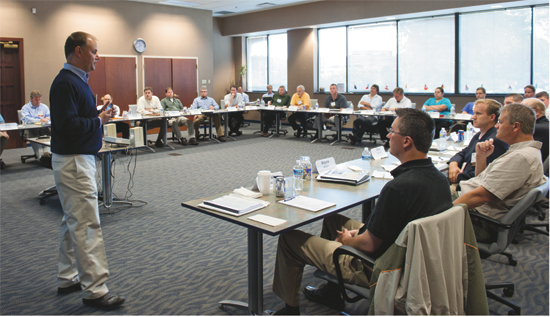 Chris Knape, senior account executive from SeyferthPR, Grand Rapids, MI, addressed MDA students on 21st Century Business Communications, including a discussion on effective use of Internet and web-based forms of business communications.
P.J. Thompson, PMA 2012 Chairman, welcomed more than 20 attendees to the inaugural MDA session, held June 3-5 at PMA headquarters in Cleveland, OH. Following Thompson's welcoming remarks on Sunday afternoon, June 3, MDA lead facilitator Ruston Simon offered a program orientation, after which a chartered bus carried attendees into downtown Cleveland for a networking dinner at one of Cleveland's renowned restaurants.
Training sessions got under Monday morning, June 4, addressing the first of three topics—Planning Strategy and Business Models, with guest speaker and expert Craig Fitzgerald of Plante Moran. The afternoon session addressed Objective Setting, Delegation and Time Management, led by Robert Stander, vice president of advanced product development at Trans-Matic Manufacturing.
Business Communications
Tuesday morning, the conversation turned to 21st Century Business Communications, including a discussion on effective use of Internet and web-based forms of business communications, including social media, e-mail, smart phone/iPad, webinar and Skype, and blogs. The session's guest speaker was Chris Knape, SeyferthPR and a former professional journalist from Grand Rapids, MI.
Each of the three focused presentations included informal as well as structured facilitated discussions, exercises and testimonials. With a near-capacity enrollment of 24 individuals from several metalforming companies, participation was broad-based, diverse and informative, making for an effective peer-to-peer learning experience and a dynamic networking environment.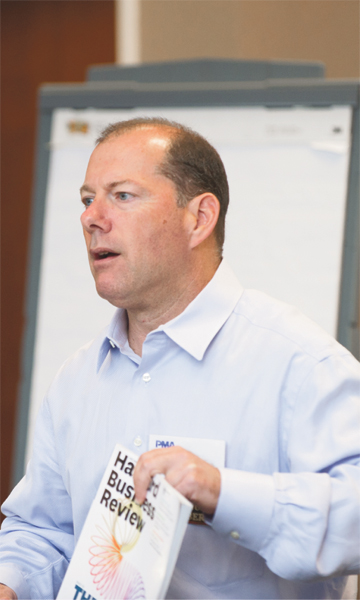 PMA's 2012 chairman P.J. Thompson tells attendees that the learning does not stop when the program ends. "Continuous improvement applies here, just as it does in the shop."
After the final session topic, all were invited to attend at no additional cost the first live workshop for the Metalforming Pioneer Companies awards, as recognized by the PMA Educational Foundation and funded by the Hitachi Foundation. The companies recognized: Oberg Industries, Freeport PA; McGregor Metalworking Companies, Springfield, OH; and Roll Forming Corporation, Shelbyville, KY. This opportunity provided a value-added capstone for MDA enrollees and an opportunity to network with some of most successful companies in our industry.
Next Up: Marketing, Business Law and HR
The second MDA session occurs September 16-18 at the Charlotte Marriott Southpark in Charlotte, NC. Topics to be addressed: Industrial Markets, Marketing Research and Sales; Managing and Developing Your Human Resources; and Business Law–Contracts, Negotiations & Terms and Conditions. The MDA's third session is scheduled for January 13-15, 2013.
The MDA is an open entry/open exit program, so there are still a few seats open for these sessions. For applications and registration, contact Allison Grealis at 216/901-8800, ext. 2104; agrealis@pma.org. For program information, contact Bruce Broman at bbroman@pma.org.
MDA graduates (those who successfully complete all three sessions) will be inducted into the MDA Alumni Networking Group. This group will enjoy ongoing networking opportunities, access to the MDA library and the MDA LinkedIn site and list serves; and additional educational activities and resources. The learning does not stop when the program ends—continuous improvement applies here, just as it does in the shop.
Adds Thompson: "Midlevel managers touch your products, customers and processes and drive profitability. You depend on these people to make smart judgments and businesswise decisions that generate timely and definitive returns. PMA's Management Development Academy empowers managers as highly functional leaders, strategic decision makers, innovators and motivators. They are your profitability engineers."
MF
See also: Precision Metalforming Association
Technologies: Management