System Applies Highly Viscous Lube to Tooling or Stock
July 1, 2018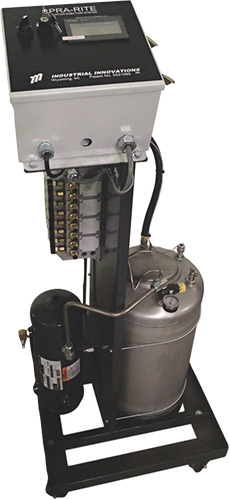 Industrial Innovations has debuted its Spra-Rite Ultra Lube system, a turnkey unit for applying highly viscous lubricants—to 800 cps—to stamping or drawing tooling as well as stock at predetermined press-stroke intervals. The pedestal design allows for simple transport from press to press, making it an ideal solution for smaller shops that process high-strength materials and require lube-system mobility.
Ultra Lube atomizes lubricant at the nozzles, which are air-controlled and capable of fine flow adjustments. This enables users to apply a range of lubricants in various flow rates. The process-control module offers numeric programming for as many as 10 injector valves and the ability to store 200 part recipes. As with all Spra-Rite products, each injector is independently controlled, allowing for precise control of lubricant placement and volume. The controller also allows users to independently skip press cycles for preprogrammed stroke counts.
The unit comes with an injector manifold, beta controls, nozzles, tubing and a 5-gal. stainless-steel reservoir with a liquid regulator, air-relief valve and strainer.
Industrial Innovations: www.industrialinnovations.com

See also: Industrial Innovations, Inc.
Technologies: Lubrication