Spray Nozzle Lays Down a Fine Lube Pattern
September 1, 2010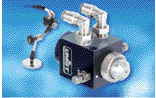 Unist, Inc., Grand Rapids, MI, introduces the LVSS spray nozzle, designed to consistently apply small amounts of fluid in either a fan or cone spray pattern. The nozzles are operated with a compressed-air input signal and an integral valve at the nozzle tip that allows pressurized lubricant to flow whenever an air signal is present. The volume of the fluid and atomizing air are controlled with independent precision needle valves.
Unist, Inc.: 616/949-0853; www.unist.com
See also: Unist, Inc.
Technologies: Lubrication