Small Internal-Mix Spray Nozzles Coat, Cool, Treat and Paint
August 23, 2019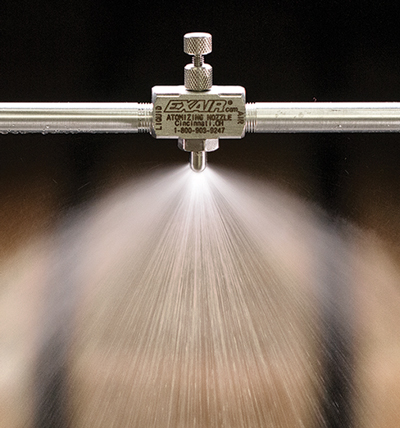 New 1/8 NPT small internal-mix spray nozzles from Exair atomize fluids at speeds to 42 gal./hr., with small atomizing nozzles mixing liquid and air inside the cap to produce the fine atomization. Internal-mix nozzles can be used on liquids with viscosities to 300 centipoise.
The nozzles are available in narrow-angle round pattern, wide-angle round pattern and flat fan pattern, and can be used to coat parts in containers, cool laminates, or apply paint and lubricant. Stainless steel construction adds to the nozzles' durability and corrosion resistance.
Exair atomizing nozzles also are available in 1⁄4 and 1⁄2 NPT, and in a variety of flow patterns and liquid rates. Also available: external-mix and siphon-fed atomizing nozzles, as well as patented no-drip versions of every atomizing nozzle.
See also: Exair Corp
Technologies: Lubrication