Manifold Turns Chaos to Order
January 1, 2016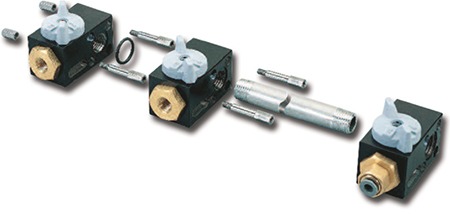 LSP Industries, Rockford, IL, introduces the ExpandaFold manifold system that, compared to traditional manifold systems, uses fewer fittings and joints, eliminates leaks and cleans up the unsightly messes associated with makeshift manifolds. Use them to transport air or fluid.
The units' ExpandaValves are designed to be assembled into custom manifolds with screws, pipe or tubing, in a variety of configurations. Cluster-type installations can be assembled in a tight cluster, with one valve actually touching another, conserving space. Assembled with an O-ring between each valve, they are held together with interlocking screws that thread into each other. Further, an angled setup allows mounting of the ExpandaValves in a horizontal line or to direct each valve at 90, 180 or 270 deg. from the adjoining valve.
www.lspind.com
See also: LSP Industries Inc.
Technologies: Lubrication