"We used to run the same lube settings for every job, regardless of coil width," adds Trent. "This led to a lot of overspray and waste, and the subsequent cleanup time and associated costs. Also, running three shifts, without the programmable control, we might have operators on each shift run different lubricant settings for the same part. Now we get consistent, even coverage, top and bottom, with no need to spray lubricant in the die, with improved part quality to show for it. Our tools stay cool, which has saved us a significant amount of tool and die repair time." The plant last installed a uni-Roller and SPR-2000 setup in August 2008, on a 500-ton Verson, and Trent expects to continue to change over its presses well into 2009.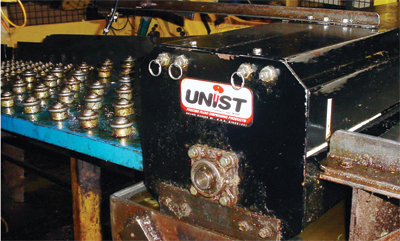 A roller unit sits ready to apply an even, think film of drawing compound top and bottom at the entry end of a press.
Long-Lasting Application for Tandem Line
In addition to its coil-fed progressive-die stamping lines, the MTD team also installed new lubricant setups on a blank-fed five-press tandem line that stamps muffler guards and other parts with relatively smaller draws. Here the lubricant might have to last through as many as eight die stations, so Unist supplied its powered roller equipment and high-output rollers. The powered uni-Roller dispenses lubricant from a tube inside of the roller. The tube has holes spaced along its length and as the fluid controller injects lubricant into the tube, the lubricant is dispersed evenly across the inside of the roller. The setup features an array of 12-in. rollers staggered and overlapping to allow programming of custom application patterns onto the blanks.
"Before, applying enough lubricant to adequately coat the blanks on this tandem line required in-die spraying in addition to roll coating at the entry side of the first press," says Trent. "We could only position nozzles to spray the top of the stock, not the bottom, and we also had overspray issues. Now we coat top and bottom once with no need to spray in the die."
Central Mix and Supply Stations
All of the MTD stamping presses run the same lubricant—a synthetic mixed with water in two different compositions—one mix handles the jobs at the tandem line and the 1600-ton transfer press that deep-draws mower decks; and one mix for the progressive-die press lines.
"We have two central mixing and supply stations to deliver premixed lubricant to all of our presses," adds Trent. "We're consuming about 350 gal. of the synthetic lube every two weeks."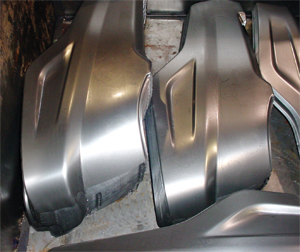 Deep drawing these mower decks at line speeds to 12 strokes/min. can generate a lot of heat. Any lubrication failings can quickly lead to galling and other premature die-wear issues caused by overheating.
Before installing the Unist equipment, press operators would have to fill reservoirs at each press, fed by the central supply stations. Now the supply stations feed directly to the presses, "yet one less procedure our operators must worry about," Trent says, which also helps ensure that the dies consistently receive well-lubricated parts and, therefore, won't prematurely wear.
Savings Keep Adding Up
Along with his conservative estimate of a 20 percent reduction in downtime due to lubrication-system issues, Trent also estimates (conservatively) that the plant's purchase of raw lubricant has been reduced by 11 percent since it began to install the Unist equipment some 30 months ago. This reduction is made more important since the price of its lubricant has continued to rise over the last few years.
"Overall, very little attention now is required of our operators to the lubrication process and equipment," he says. "Typically the operators would be involved with cleanup, refill and recycling activities—that's all been eliminated. We get an even coat of lubricant on the top and bottom of the material, and have eliminated the time-consuming mop-up and cleanup of the overspray from our previous lubrication systems." MF
See also: Unist, Inc.
Technologies: Lubrication