Lube-System Overhaul Dispenses Cost Savings on Every Front
February 1, 2009
The huge 260,000-sq.-ft. MTD plant in Martin, TN, deep draws and stamps as much as 1 million lb. of steel per week to supply more than 250 different parts to its assembly lines, and to the lines of some of its nearby sister plants. Its bread-and-butter jobs—deep drawing mower decks and fenders—have become more critical with recent product redesigns, including a new, synchronized-blade system that requires tighter tolerances on the deep-drawn deck. The plant employs a 1600-ton transfer press to draw and trim decks at line speeds to 12 strokes/min., which can generate a lot of heat. Any lubrication failings can quickly lead to galling and other premature die-wear issues caused by overheating.
At the same time, in another area of the plant, more than a dozen progressive-die presses stamp a variety of smaller mower components—muffler guards, frame components and the like. Here, MTD operators change over press lines as often as seven times per shift. Each job has its own, unique lubricant requirements to avoid over-application and waste, while still ensuring consistent coverage to optimize part quality and die life.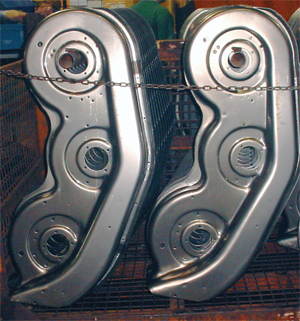 Deep-drawn mower side panels formed through a four-press cycle using multiple tools, ready to be washed and painted.
New Programmable Roller-Coater Units
To address its lubrication concerns in both areas of the plant, early in 2006 MTD maintenance manager Trent Rutkowski began to replace the spray-lubrication equipment on the plant's presses with roller-type equipment. It started with a test unit from Unist, Grand Rapids, MI, a uni-Roller Type S equipped with Unist's SPR-2000 programmable controller, so that MTD could estimate the reduction in lubricant consumption due to eliminating overspray and therefore justify the investment needed to install the units on several of its presses. MTD then brought Unist personnel into the plant to train all of its press operators on the equipment, to ensure operator approval. Within two years, the plant had installed the uni-Roller and SPR-2000 on eight coil-fed presses. It also installed Unist powered uni-Rollers and SPR-2000s on a pair of blank-fed press lines.
"Upgrading our lubrication technology has been the most successful project we've implemented in recent years," says Trent Rutkowski. "With our previous oilers, we constantly fought maintenance battles with the pumps, filters, etc. We tried to implement TPM at he cell level, but the work wasn't getting done. So we bypassed operator involvement to let them focus on other more important tasks around their press cells and decided to automate the lubrication process. I'd estimate that we've reduced press downtime due to lubrication issues throughout the plant by at least 20 percent."
Among the Unist installations, Trent says that the most noteworthy improvements came on the progressive-die presses, where he has installed the uni-Roller units on eight of 15 coil-fed presses. On these lines, where press size varies from 150 to 800 tons, the coil line feeds the stock through the uni-Roller, which applies lubricant to the top and bottom of the material. To set up a press for a new job, the operator only has to select a predetermined program on the SPR-2000 controller based on coil width.