In with the New
The solution for Thomas Erie: a Dürr Ecoclean Universal 71C solvent-based parts-cleaning system, which uses nonhalogenated hydrocarbons as cleaning media. This setup allows the safe and economical use of solvents for removing oils, greases, emulsions and swarf between or after manufacturing processes. Thanks to its many different process variants using hot or cold immersion with downline vapor degreasing, Thomas Erie's new parts-cleaning machine has proven ideal for meeting its requirements related to quality and functionality.
The new cleaning system boasts dual work chambers for increased capacity and an automatic feed option that the company can integrate later when it installs a planned conveyor system to further automate cleaning operations. The workpiece baskets at Thomas Erie feed automatically into the first work chamber available, simplifying and streamlining operations.
According to Morphy, the Dürr Ecoclean Universal 71C has provided Thomas Erie the flexibility and consistency it sought, including handling the "semi-clean" specification. The machine's intuitive control panel makes it easy for the operator to program any number of diverse cleaning cycles, so that, says Morphy, "changing processes takes just a few seconds and a few taps on the touchscreen.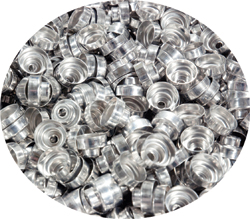 Thomas Erie sends millions of stamped aluminum components, such as these aerosol-can closures, through the dual work chambers of its new parts-cleaning system.
And, adds Morphy, the machine provides consistent cleaning results throughout the workday. "We didn't expect such a high level of consistency. We expected some degradation in the cleaning operation, but that has not been the case."
Reduced Costs for Waste, Energy and Materials
Since installing the new cleaning system, operating costs for parts cleaning at Thomas Erie have dropped dramatically—for cleaning fluids and electricity. The former machine's boiler was, as Morphy puts it, "an energy hog," running continuously, 24 hr./day, even when the machine was not running. And, the firm no longer has to incur costs related to working with perchloroethylene.
Also contributing to cost savings from the new cleaning system: Thomas Erie reclaims and separates solvent from the stamping oil. Solvent used to wash the parts returns to the wash tank only after it has been separated from the oil through the distillation process, ensuring the use of pure solvent when washing parts. Thomas Erie expects to further reduce waste costs by recycling the stamping oil back into the stamping process.
MF
Article submitted by Dürr Ecoclean, Plymouth, MI: 734/459-6800; www.durr-ecoclean.com.
See also: Ecoclean, Inc.