Clean Stainless-Steel GTA Welds, and Mark, Too
April 19, 2022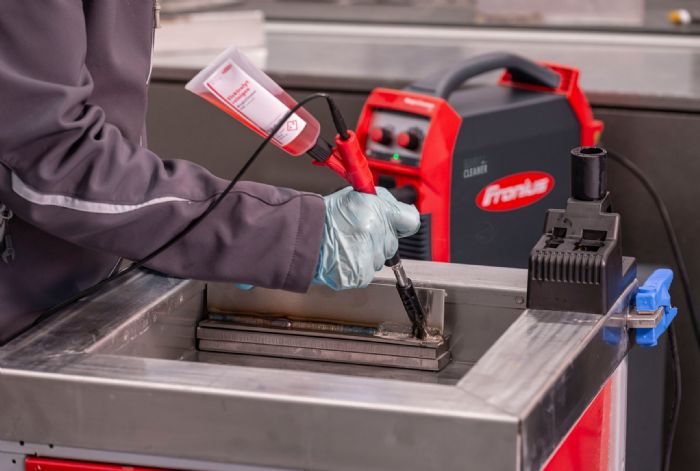 The newest generation of Fronius MagicCleaner electro-chemical cleaner now is available in two models, with each providing ideal finish on stainless-steel gas-tungsten-arc (GTA) welds and surfaces. Also the MaagicCleaner can mark workpieces with logos or serial numbers.
Strong temper colors in GTA welds can interfere with a clean visual appearance in applications such as architecture, commercial kitchens or stainless-steel swimming pools. In the food and pharmaceutical industries, discoloration can range from being a mere visual distraction to a quality defect to be avoided at all costs. Discoloration indicates that the chromium-oxide protective layer is not intact, which can be a starting point for corrosion or deposits.
MagicCleaner reportedly restores the protective layer over welds and stainless-steel surfaces. Clean and passivate workpieces in a single step. The lightweight MagicCleaner 150 (15-A output and weighing lessthan 10 lb.) provides a portable companion for construction sites. The MagicCleaner 300 (to 30 A and weighing about 30 lb.) is ideal for more intense applications and for cleaning longer GTA welds. It features a 1.8-L cleaning-fluid tank and patented compressed air blower. Both versions reportedly are simple to operate and supply the cleaning pad with electrolyte. This eliminates the need for dipping into open containers of cleaning fluid.
Electrolyte solution is delivered exactly where it is needed, according to company officials, with the included pads and brushes penetrating into corners and gaps. This ensures optimal cleaning with minimal use of materials.
See also: Fronius USA LLC
Technologies: Finishing