Automated Wastewater Treatment: Clean, Compliant and Cost-Effective
March 31, 2021
Manufacturers involved in metal forming, fabricating, machining or finishing all must meet U.S. Environmental Protection Agency (EPA) as well as other federal, state and local wastewater requirements for effluent. Under the Clean Water Act, the EPA has identified 65 pollutants and classes of pollutants as "toxic pollutants," of which 126 specific substances have been designated "priority" toxic pollutants.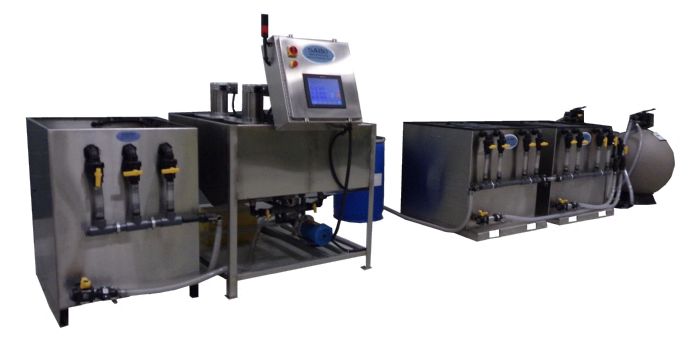 Typically, metal-processing industries rely on washing to remove any residue, lubricant, oil or acid before, during or after various process steps. Doing so generates significant amounts of wastewater, including coolant, acid, alkaline or etching compounds and rinses. Metal refining, stamping, tube forming, machining, grinding, quenching, tumbling, plating, electroplating, powder coating and scrap-metal recovery all contribute to the wastewater stream. Manufacturers must take measures to monitor the stream and clean it up. Failing to meet requirements to remove and dispose of targeted substances from wastewater streams can result in severe and quickly escalating fines.
For manufacturers dealing with metal, this means installing wastewater-treatment systems that effectively separate the contaminants from the water so that the processed water legally can be discharged into sewer systems, or even re-used.
However, traditional wastewater-treatment systems can be complex, often requiring multiple steps, a variety of chemicals and a considerable amount of labor. Even with supposedly automated systems, too often technicians still must monitor the equipment in person. This usually requires oversight of mixing and separation, adding of chemicals and other tasks required to keep the process moving. Even then, the water produced still can fall below mandated requirements.
Paying to haul away wastewater, while an option, proves extraordinarily expensive. Much more cost-effective: treating industrial wastewater at its source, enabling treated effluent to enter the sewer and treated sludge that passes a TCLP (Toxicity Characteristics Leaching Procedure) test to be disposed of as nonhazardous waste in a local landfill.