Deburr Piercings with a Customized Flexible Hone
April 1, 2017
Deep-draw specialist Precision Stamping Co., Howell, MI, recently went in search of an efficient and inexpensive deburring method for use on pierced holes. Its solution: a custom honing tool. Says engineer Jesse Parke: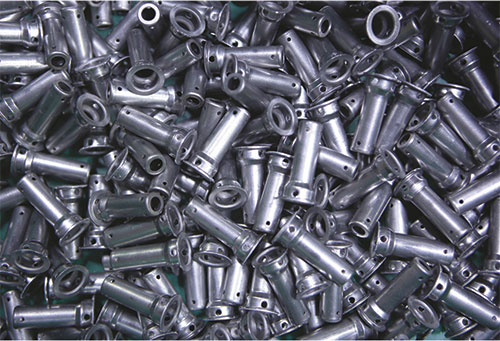 "We can pierce holes in sheetmetal blanks and formed shells using complex machinery and setups that are flirting on the edge of what's possible and what's wishful thinking."
Parke offers one recent example: a spring cup flared at the top with a narrower diameter for the body. The part specification includes piercing a hole in each of the stepped sections, which can leave a heavy burr. To remove the burr, Parke initially opted to send the parts outside for thermal deburring, a process that removes the excess material by vaporizing and burning it off. Eager to discover a more efficient alternative, Parke turned to Brush Research Mfg., Los Angeles, CA, for its Flex-Hone self-centering, self-aligning and self-compensating deburring tool. The tool features abrasive globules attached to flexible filaments along a central shaft, and can be used in any rotating spindle.
Now, after the parts are stamped and cleaned, they are transferred to a nest for piercing. Then they move to another nest, where a stepped Flex-Hone is inserted and rotated using an automated pneumatic drill. The same operation is repeated in the opposite direction to ensure optimum deburring with maximum brush life. The parts then drop through an escapement in the machine as finished goods. In one 6-hr. period, operators can run 8000 pieces.
"We can deburr inhouse and the parts look 10 times better than what we were getting using thermal deburring," Parke says.
Brush Research Mfg. Co., Inc.: www.brushresearch.com
See also: Brush Research Mfg Co
Technologies: Finishing, Other Processes, Tooling