Cutting, Grinding and Torque Tools
October 2, 2019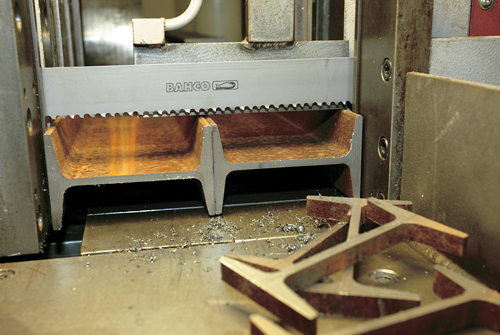 Snap-on Industrial
Booth A5939
With a booth theme of "Fabricating Solutions: Cutting, Grinding & Torque," Snap-on Industrial displays Bahco band saw blades and Sioux Tools offerings, all used for metal fabrication. The Bahco 3853 TOP Fabricator (pictured) cuts I-beams, angle iron, structural steel, square and round tubes, H-beams, channels and bundles. The double-set tooth design makes the teeth stronger, longer lasting and more resistant to tooth stripping, according to company officials, who note that the M42 bi-metal tooth material provides longer blade life. The unique tooth set also provides an ideal surface finish.
Sioux Tools showcases its selection of inline, vertical and right-angle grinders, with collet sizes from ¼ to ½ in. and 3 to 8 mm for a variety of applications. Speeds reach 25,000 rpm. Sioux also offers extended models that fit into tight, hard-to-reach spaces.
Also displayed, Snap-on Industrial's ControlTech industrial electronic torque wrench. Weighing only 1 lb., the aluminum wrench provides instant data on the exact torque applied. And, its lightweight design reduces fatigue while enabling precise, reliable torque application during repeated use.

See also: Snap-On Industrial
Technologies: Finishing