Bid Farewell to Unwanted Burrs, While Rounding Edges, Too
November 1, 2015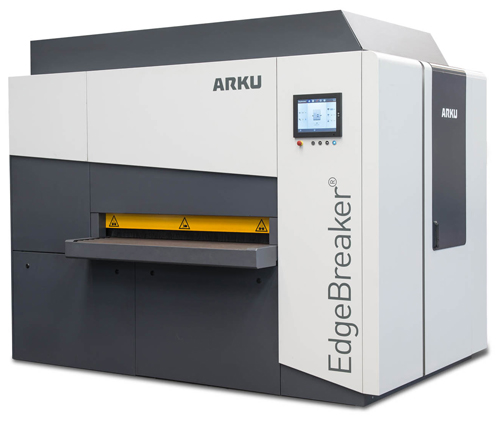 German-based equipment manufacturer Arku, with U.S. headquarters in Cincinnati, OH, has introduced its EdgeBreaker edge-deburring and rounding machine. "In order for our precision levelers to work more efficiently," says Arku managing director Albert Reiss, "the use of deburring machines of equal quality and reliability is recommended. Therefore, we have built on our expertise in leveling and applied it to burr-removal technology."
"From our many years of experience in leveling technology, we know that flatness results are improved when fabricators start with a clean, burr-free part," adds Franck Hirschmann, Arku key account sales manager.
Use the EdgeBreaker on a host of materials, including aluminum, steel or titanium. The Edgebreaker is a dry-processing application and can perform double-sided deburring and rounding. Its oscillating roller removes unwanted burrs, while transverse-running rounding units equipped with rounding locks simultaneously round the edges on both sides. A patent-pending one-click system allows for quick replacement of the rounding blocks.
Part-parameter input is quick and simple using touchscreen controls.
www.arku.com
See also: ARKU, Inc.
Technologies: Finishing, Other Processes