Amada Press System Introduces Automation System for Progressive Stamping in the EV Market
January 17, 2023
Amada Press System (Isehara, Japan, and Erlanger, KY) has launched an automation package for progressive stamping-press production specifically developed for the electric vehicle (EV) market. Equipped with a newly introduced i3 control, the system combines the firm's Model SDEW-8010i3 Goriki, 88-ton digital AC servo press along with an ALFAS-03ARZ high-speed NC roll feed and a new up-loop straightener.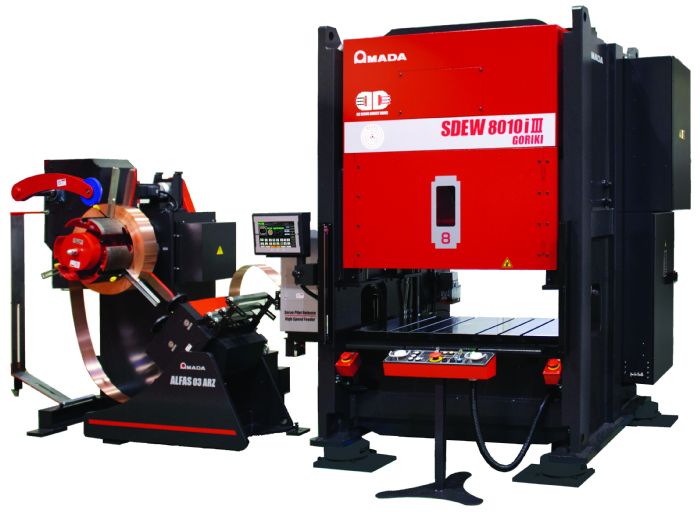 Integration of the operational screens and controls of the press and feed simplify setup operations and reduce operator workload. In addition, it supports productivity improvements through stable high-speed and precision production. The system should provide ideal, company representatives say, for production of battery cases, explosion-proof valves and lids, control units, bus bars, and other electrical components essential for EV relays.
Noted press features include eight-point bottom-dead-point slide gibbing and a double-crank mechanism, which provide rigidity against eccentric loads in all directions during production—important as many on-vehicle EV electronic components are asymmetrical. In addition, the high-speed NC roll feed and up-loop straightener increase speed capacity by approximately four times compared to the firm's conventional roll feeders that use a down-loop straightener. In addition, by adopting a backlash-less structure with directly coupled servo motor and feed roll, the speed and precision of the feed's servo motor can be transmitted directly to the feed roll. And, considering that EV-component production may require stamping of electrical steel, copper and aluminum alloys, and other materials, the new straightener structure facilitates easy roll cleaning. The loop between the uncoiler, straightener and roll feeder has been optimized and reduced, saving 40 percent more space compared to a roll feeder with a down-loop straightener. And, the angle of the straightener and the shape of the material guide can be adjusted according to the material type and its specifications, to enable development of an optimum loop shape and a stable feed.
Lastly, the roll-feeder drive employs a cam-driven servo pilot-release mechanism, and digital pressurization to adjust the pressure applied to the feed roll according to the specifications of the material. This reportedly reduces scratches on the workpiece materials, minimizes noise and air consumption, and improves roll-feed durability.