New Business Calls for New Press Brake
December 1, 2019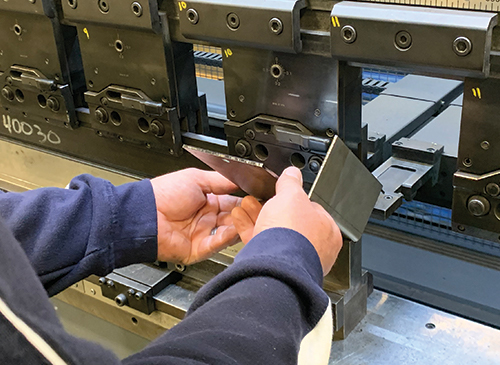 A hybrid press brake allows AccuBurn operators to create accurate bends on parts of all sizes.
With 75,000 sq. ft. of production facilities and a willing workforce of 50, Williamsport, IN-based AccuBurn has, since its founding in 1995 as a construction OEM, strived to find ways to meet the ever-evolving needs of its customers in the agriculture, automotive, medical, mining, sign manufacturing and heavy-equipment industries.
Therefore, when an agriculture customer approached AccuBurn about building a new kit of sprayer components, AccuBurn management knew their associates could do the job… with the right equipment. The new business called for the monthly delivery of about 70 part numbers and 6000 pieces (95 percent of which require forming) of Type 316 stainless steel, in thicknesses ranging from 1/4 to 1/16 in.
Steve Smith, vice president at AccuBurn, says that the challenge provided him with a mission to pursue while at FABTECH 2018 in Atlanta: identify a new press brake possessing the features necessary for getting the job done. Smith purchased from supplier partner MC Machinery Systems a 3-m, 135-ton BH13530 hybrid press brake. The machine's dual-drive system controls high-speed up and down movement with a ballscrew and bending movement with the servo-hydraulic piston. The technology allows for high-speed descent at 200 mm/sec. with high repeat-stop accuracy.
Other accuracy-ensuring features: ram cylinders powered by AC servo motor, combined with the 4-micron accuracy of the backgauge driven by Mitsubishi motors. In addition, automatic thickness detection minimizes angular irregularities due to material thickness and off-center bending. Smith notes how auto-crowning can all but eliminate deflection on fine bends, to 120 in. in pieces to 10-ft. long. He adds that the 40-deg. backgauge has also had a major impact, compensating for bends that aren't a true 90 deg. to the machine, and eliminating the need for additional fixtures or tools.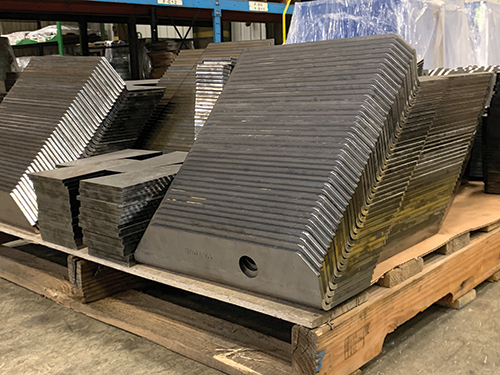 Shown: uniform bent steel created using the new hybrid press brake.
All of this technology enables AccuBurn to complete the forming process for an ag customer in roughly half the time it took before purchasing the press brake—about four days instead of eight. "The new brake takes the bulk of the smaller pieces in the kit due to the much simpler changeover and setup," Smith explains.
The shop does not restrain the use of the machine to the small parts in this new project, however. "We just can't," Smith says. "We're doing 3 million lb. of parts per month with a 10-day lead time. It is definitely a just-in-time world, with nobody wanting inventory on their floor. As a result, our new press brake has been operating 10-12 hr./day, 6 days/wk. since it arrived last year. We've been able to do more 10-ft. bending since we got this machine than in the 15 years after we installed our first press brake."