Spee3d Debuts Containerized Metal 3D Printer
October 31, 2022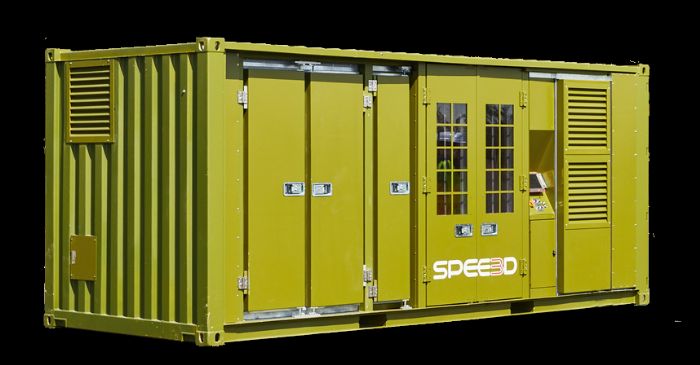 Spee3d has rolled out XSpee3d, a fully transportable metal-additive manufacturing (AM) machine housed as a standard shipping container with the printer and all auxiliary equipment in one box. Quickly deployable, it requires only a connection to electrical power. Developed with military deployable field operations in mind, the XSpee3d uses the company's Supersonic Deposition process that reportedly cold-spray deposits—via kinetic energy rather than high-power lasers and gases—at rates to 1000 times faster than other AM methods.
XSpee3d can 3D-print metal parts from more than 12 metal alloys, including copper, stainless steel, titanium, high-strength aluminum and nickel-based carbides, and can withstand extreme heat and rough terrain in the field, according to company officials
"One of the most significant issues the military faces today is the ability to resolve critical-spare-part requirements in the field, a challenge that worsens in the face of global supply-chain issues," says Byron Kennedy, Spee3d CEO. "With the introduction of the XSpee3d, we're solving this issue with the ability to make reliable and affordable metal parts from anywhere, including in harsh, remote military field conditions."
During the recently concluded Land Forces International Land Defence Exposition in Brisbane, Australia, the XSpee3d produced an array of parts including, in 23 min., a 3-kg copper wheel. Also at Land Forces, Spee3d announced a partnership with the United Kingdom's Manufacturing Technology Centre (MTC), an independent research and technology organization that works with military and commercial clients. With the partnership, MTC becomes the first organization to use the XSpee3d printer.
"We chose the XSpee3d for its unique capability to be deployed in harsh environments, which makes it ideal for military use or for creation of spare parts in remote locations," says Dr. Ken Young, MTC director of technology. "This opens up a new area of application for AM that until now has been unachievable."
See also: SPEE3D
Technologies: