DED In Standalone Machine or with CNC or Robot Integration
December 13, 2021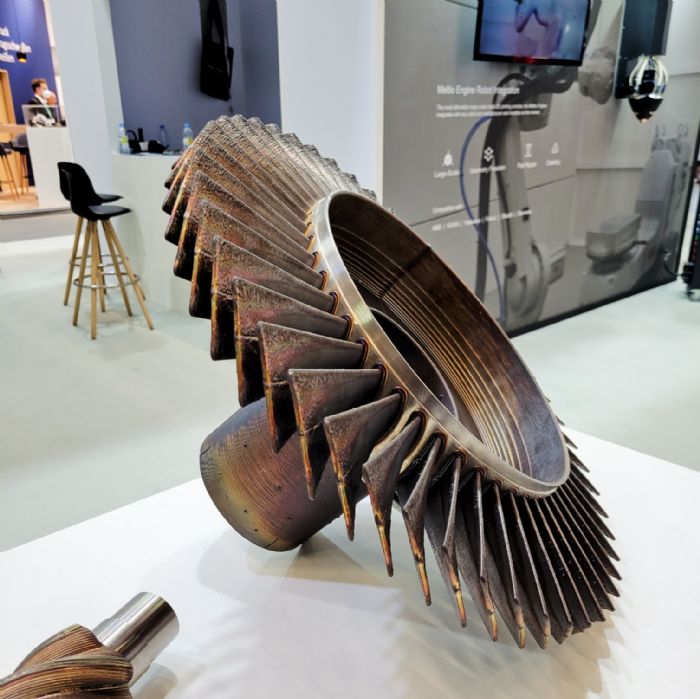 At Formnext…Spanish company Meltio, a provider of directed energy deposition (DED) additive manufacturing (AM) technology and offering an open wire and powder material platform, has expanded its reach to North America (U.S. office in Las Vegas, NV), and had systems and sample parts on display. The company offers a standalone AM machine as well as a multi-laser deposition head in a package it refers to as an engine, that can be integrated with a CNC or robotic platform, thus creating a hybrid manufacturing system with no inherent part-size constraints for near-net-shape manufacturing, component repair or feature addition. And, multi-material capability allows for printing dual wire for hard-facing or anti-corrosion applications, or wire and powder to create new alloys on the fly.
Meltio's turnkey multi-metal DED 3D printer, the M450, features a compact footprint and allows users to produce high-density metal parts in a single-step process. It offers a print envelope of 150 by 170 by 425 mm, and employs multiple 200-W direct-diode lasers to process wire feedstock. Use the company's technology to manufacture from stainless and mild steel, as well as titanium, nickel and copper alloys.
On the show floor, Meltio displayed the M450 as well as its CNC and robotic-platform engines, and displayed numerous parts, including a blisk (pictured) for an aerospace application. The type 316L stainless-steel blisk, measuring 500 by 500 by 60 mm and weighing 9.15 kg, was produced via the Meltio engine integrated with a robotic platform. Total build time: 26 hr., 25 min.
See also: Meltio Inc
Technologies: