New: Bandsaw for Miter and Cut-To-Length Work
March 1, 2019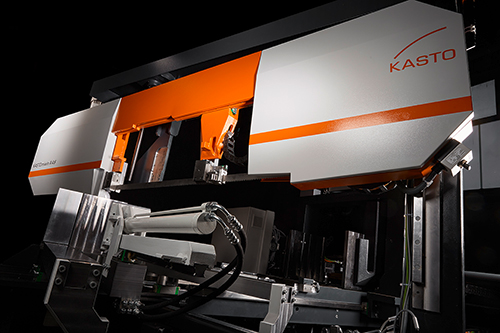 Kasto has introduced a new range of saws with the KastoMiwin, a double-miter bandsaw for cut-to-length and miter cuts between -45 and +60 deg. Initially available as the semiautomatic KastoMiwin U 4.6 and the automatic A 4.6 version, it is designed particularly for cut-to-size pieces in the steel industry, the iron and steel trade, plant construction and special machine building.
The new saw features an electrical saw-feed drive with ball-screw spindle. In the A-version, a rack-and-pinion drive provides material feed, with a single stroke of 3000 mm. Inaccuracies in cut lengths are countered by skilful placement of the vice, according to company officials, which fixes the material at right angles to the material-flow direction in all cases. Thus operators reportedly can acheive miter and cut-length accuracies in the 'fine' tolerance class.
The clamping range of the new bandsaw reaches 460 mm depending on the material profile, with the smallest cuttable size measuring 10 by 10 mm. With single cuts, the KastoMiwin leaves a remnant piece of 30 mm. In automatic mode, the remnant piece length increases to 200 mm for 90-deg. cuts. Users can adjust cutting speed steplessly from 12 to 150 m/min.

See also: Kasto Inc.
Technologies: Cutting