Live Demos of Cold Saws, Ironworkers, Pipe Notchers and Hydraulic Presses
July 19, 2021
Scotchman Industries
Booth A3526, A3625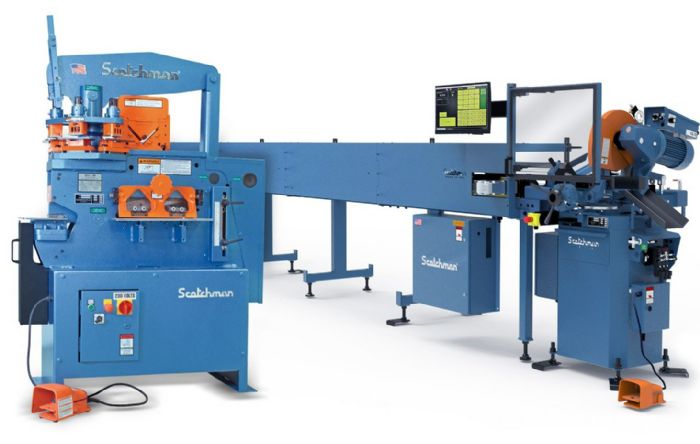 Scotchman will perform live product demonstrations continuously throughout the show. Equipment on display includes the CPO 350 AutoLoader circular cold saw with the new, Clear Awareness Barrier with safety interlock switch. These new features provide extra safety for sawing while allowing the operator to visually monitor the saw in-action. The variable-speed, semi-automatic CPO 350 can be coupled with an auto-loading material-feed system to create a fully automatic sawing system that cuts multiple lengths of tube (max. 3-in. dia.). The saw can rub unlimited cut lists in lengths from 0.5 in. to 23 ft.
Also shown: the Scotchman 5014-ET ironworker, reportedly the world's only 50-ton hydraulic ironworker with a three-station turret. The revolving turret accepts as many as three different punch sizes that can be changed in seconds, thus reducing setup time and increasing productivity. This ironworker can punch a 13/16-in. hole in a ¾-in. plate, and comes standard with a 4-in. angle shear, 14-in. flat bar shear and rectangle notcher.
Other ironworkers, cold saw, pipe notchers, hydraulic presses and measuring systems also will be on display.
See also: Scotchman Industries, Inc.
Technologies: Cutting