Extended-Life Bimetal Bandsaw Blades
July 5, 2023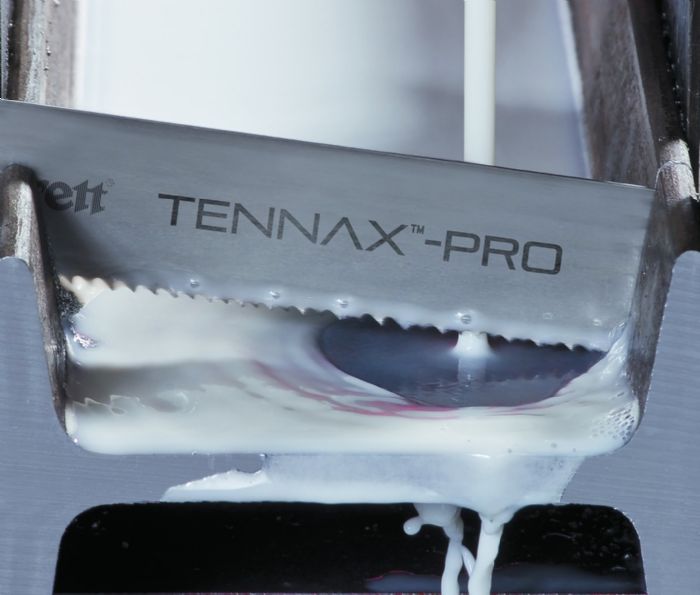 The L.S. Starrett Co. has introduced Tennax-Pro bimetal bandsaw blades, designed to cut tubes, pipes, profiles and structural shapes in both single pieces and bundles. Reportedly providing lower noise and vibration as well as improved cutting performance, the blades enable 25 percent more cuts per blade than previous blade lines.
Tennax-Pro blades feature high-speed M-42 steel teeth with a new special tooth geometry/ profile that optimizes the tip profile for tube, pipe and other structural cuts, dissipating stress during cutting for improved resistance to wear and tooth breakage. In addition, the blades are designed with an exclusive tooth-setting process that minimizes pinching when cutting structural and bundled materials.
The blades are ideal for cutting a range of materials including carbon steel, carbon-steel alloys, stainless steel and nonferrous materials. In addition to pipes, tubes, structural and bundled materials, blade applications include small solids. The blades are available in widths of 0.75, 1.0, 1.25, 2.0 and 2.625 in., and can be used with manually operated, gravitational and hydraulic machinery. Tennax-Pro blades replace the Starrett Versatix MP line.
See also: L.S. Starrett Company
Technologies: Cutting