Servo-Drive Turret Presses Conserve Power, Contour with Laser-Like Precision
August 1, 2011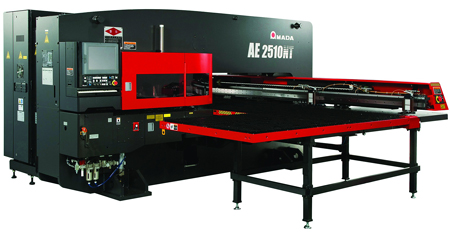 The new AE-NT series of compact servo-drive turret punch presses from Amada America, Inc., Buena Park, CA, offer the advantages of the servo-electric drive concept and, in particular, the low power consumption it provides. Power consumption reportedly is reduced by more than 50 percent compared to an equivalent hydraulic machine. Also, the machine's drive system comprises considerably fewer components than does a hydraulic system, reducing maintenance and spare-parts costs.
The AE-NT series is available in two models: AE-255 NT (4- by 4-ft. sheet capacity) and AE-2510 NT (4- by 8-ft. sheet capacity). Both machines share the same bridge frame and drive, offering punching capacity of 20 metric tons. Maximum stroke length: 1.65 in.
The machine powers Amada's Triple-Track turret with as many as four auto-index stations, and power vacuum die and air blow systems to minimize slug pull. Using the firm's special contouring tool, the machine nibbles at a pitch as small as 0.020 in. To punch complex shapes and curves at near laser-like precision. Fabricators can tool-up the units for deburring, marking and forming as well.
Amada America: 714/739-2111; www.amada.com
See also: Amada North America, Inc
Technologies: Cutting