Expanding Opportunities... New Ideas, Products and Markets
November 1, 2008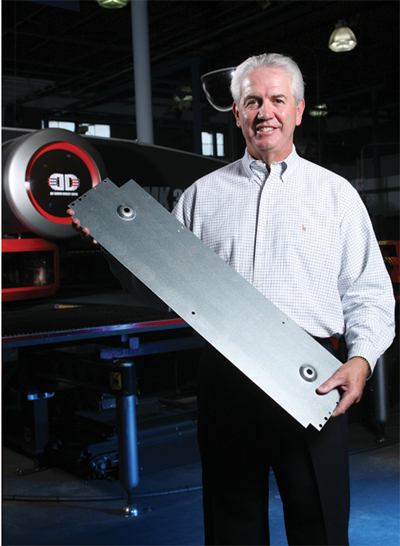 Built on the ability to produce short-run stampings, Quick-Way has in recent years invested heavily in metal-fabrication equipment—CNC turret punch presses, press brakes and laser-cutting machines (all from Amada). "Fabrication opens new doors for us," says president Wayne Boeckman, PMA chairman for 2009, shown holding a fabricated metal part for an electrical box.
Ownership and management at short-run stamper Quick-Way Stampings Inc. of Texas, in Euless, decided long before Wayne Boeckman landed there as president earlier this year that it had to expand its core competencies in order to grow and prosper. That's why four years ago the firm invested heavily to grow into metal fabrication—turret punch presses, press brakes and laser-cutting machines. That willingness to expand into new markets, develop new ideas and learn to make new types of parts is what attracted Boeckman to the company. He joined Quick-Way after selling his metal-spinning company, Texas Metal Spinning, Inc. (TMSI), in 2006 following 20 years as owner. Now he brings his diverse background to PMA, as chairman for 2009.
"I joined Quick-Way because management was willing to get into new things, as evidenced by its move into fabrication," Boeckman says. "In today's economy combined with the global marketplace, companies must find different solutions to the variety of challenges they face. You can't continue to do things the same you've been doing them. And likewise, the Precision Metalforming Association (PMA) must expand its opportunities to help North American metalforming companies survive and thrive."
Collaboration Key to Meeting Mission Statement
A primary that PMA can expand its reach and its effectiveness in accomplishing its mission—"To represent the metalforming industry and to lead innovative member companies toward superior competitiveness and profitability"—is to continue cooperating with other associations that share some of its basic goals. These include creating a united lobbying front to influence public policy on issues such as healthcare for small to mid-sized manufacturing companies; and joining with other tradeassociations to produce the nation's single largest manufacturing tradeshow. PMA continues to seek partners in its objective to join with other groups to act as a united industry, in Washington, D.C., in its tradeshow and in other activities such as training," Boeckman says. "As manufacturers leading our associations, we must expand our opportunities not only within our own companies, but also guide our trade associations to work together to better serve the interests of all companies serving the middle-market manufacturing economy."
As an example, Boeckman cites the recently forged partnership between PMA and the National Tooling and Machining Association (NTMA) to combine their federal-government advocacy programs. PMA and NTMA now will lobby as one to promote government policies that ensure a strong U.S. manufacturing sector.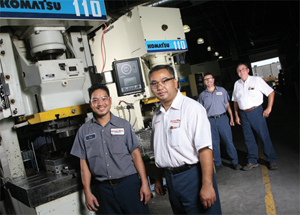 A lineup of newer Komatsu C-frame stamping presses keeps Quick-Way's short-run stamping business cooking. Shown are press operators (blue shirts) Francisco Valdez (rear) and Ngoung Tran; and supervisors Bob Bundick (rear) and Phouvong Souyavong.
"Our two associations working together on Capitol Hill will gain more exposure for our key issues than can the two groups working separately," says Boeckman, who helped finalize the agreement. "And hopefully we can convince other trade associations to join us in lobbying for policies that help create high-paying skilled jobs among small- to mid-market manufacturers."
Advocacy in 2009 and Beyond—Just One Reason to Join PMA
PMA has an aggressive advocacy agenda for 2009.