Leveler Helps Fabricator Meet Tight Flatness Specs
May 1, 2014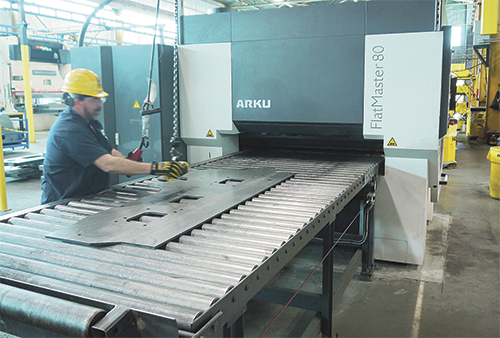 "We used to cringe when a customer required really flat parts," says Joe Arceneaux, manufacturing engineering manager at the Greensboro, NC plant of O'Neal Manufacturing Services (OMS). Specifically, Arceneaux describes a recent contract requiring flat parts (3 by 7 ft.) laser-cut from 10-mm high-strength low-alloy steel (65-ksi minimum yield), with an 0.07-in. flatness tolerance over the entire length.
"This tough material has a lot of inherent stress in it to start with," says Arceneaux, "so even if it is as flat as the mill can make it, there will be distortion from stress relief during laser cutting."
Using a gantry flattening press when prototyping the job, it took the plant an unacceptable 15 to 60 min. to flatten each part, often requiring hits from both sides. To the rescue came an Arku (Cincinnati, OH) FlatMaster 88 parts leveler, delivered early in 2013. The FlatMaster uses servo-hydraulics to set and maintain the leveling gap, and adjust forces to compensate for parts with cutouts, perforations or odd shapes. It can process parts from 2 to 23 mm thick, to 2 m wide.
Says Arceneaux: "We installed the machine inline with our laser outfeed, where it's also accessible to the press brake. After a few days of training for our lead operator, we were ready to run. In a few seconds, one pass through the FlatMaster brings the part into spec and relieves inherent stress. As we look ahead at new business opportunities, we see the leveler as a competitive advantage for us. It is a real game-changer to have this capability inhouse, because flat parts, fully stress relieved, als improve downstream processes and quality."
Arku: 513/985-0500; www.arku.com
See also: ARKU, Inc.
Technologies: Coil and Sheet Handling