MetalForming: Metal stampers may attempt to test the limits of coil handling equipment when taking on higher-strength material. What are the consequences?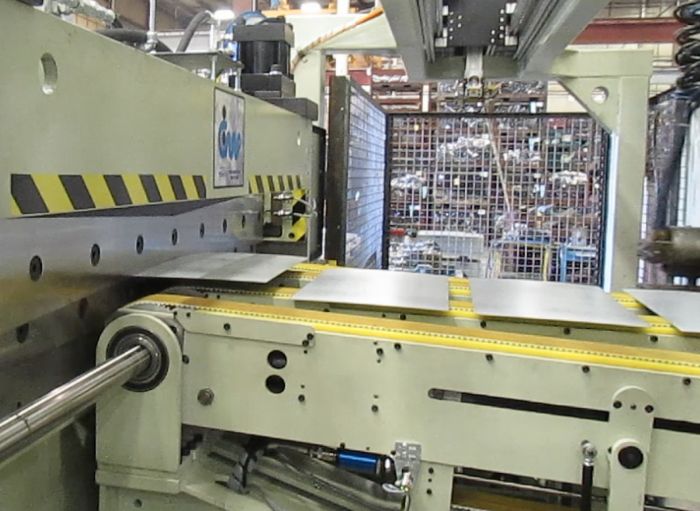 Kevin Enos: Due to the forces required to straighten the higher-strength materials, straightener-roll deflection can become an issue. Over time this deflection can lead to bearing failure, or broken journals or gears, and create distortion (wavy edge) in the material. Increasing the drag brake to control the coil, or increasing pressure on a holddown/containment system beyond the manufacturer's recommendation causes a great deal of stress on the overall structure—cabinets flex and arms bend, leading to a possible structural failure.
As higher-strength materials typically require tighter bend radii for proper flattening, the straightening machine must be sized correctly― to achieve the radius for a given material, which depends upon alloy type, yield strength and thickness. Additionally, the straightener must contain backup rolls, outboard supports on driven rolls and a stronger cabinet, as the outboard supports and backups will transfer the load into the structure.
Again, using a straightener not designed for this material would flex the rolls and cabinets, leading to premature bearing failure, misalignment and breakage of the gear train, and structural failure. Consequences for the servo feed itself would be minimal—perhaps more drive-system nuisance faults or inconsistent feed lengths due to improper flattening, causing binding in the die or slippage.
MetalForming: What questions should metal stampers ask of potential suppliers when searching for coil handling equipment to process higher-strength material, and what information should stampers be prepared to provide?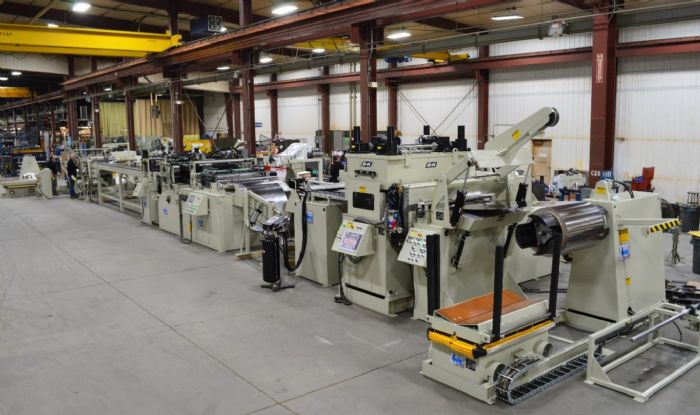 Kevin Enos: Metal stampers should ask for the tensile strength of the straightener or leveler work rolls. Also, they should look for outboard journal supports on such equipment, as these provide outstanding rigidity for handling the higher horsepower and torque required to straighten high-strength materials.
Know if the coil handling line will be located in a high-traffic area. Coiled high-strength material contains a large amount of stored energy. Cutting the banding that secures the coils releases that energy, causing clock-springing of the material. Based on the yield strength of a particular material, we recommend two to three holddown arms for containing the coil during threadup or during rewinding and rebanding. Stampers should consider a fixed guard if the coil reel will be located along an aisleway.
Overall, the most critical information in specifying and designing a line: the full range of intended materials, including minimum and maximum thicknesses, and yield and tensile strengths. Those who are new to coiled-metal processing must understand the importance of material specifications for design.
And, be familiar with equipment features for safe threadup, and why they're important. Common to HSLA and AHSS lines are secondary holddown arms, powered side-guide rollers, hydraulic holddown peeler systems, threading tables, etc. These often are perceived as convenience options for a hands-free set-up, but in fact become especially important safety features when dealing with HSLA and AHSS.
MetalForming: Should coil handling equipment be tailored to particular materials, or do one-size fits-all solutions exist for feeding materials of varying strengths?
Kevin Enos: Both, as each circumstance dictates its own needs. Plant-level requirements, corporate requirements and individual preferences all contribute to differentiating similar applications. This is balanced by the reality that a contract stamper doesn't know what job it may be tasked to run tomorrow. Our main focus: Ensure that the feed line is not the limiting factor in the application.
MetalForming: Is retrofitting to process higher-strength materials a good option for coil feeds?
Kevin Enos: Straightener retrofitting typically isn't cost-effective as it requires replacing the entire straightener head and potential modification of the cabinet. Backup rolls would have to be added and/or the cabinet structurally reinforced to prevent cabinet deflection due to the increased forces required to straighten or level. Equipment not designed for higher-strength materials can cause safety issues due to potentially undersized drag brakes, a weaker holddown or containment system, and an inadequate peeler/threader system. MF­
See also: Formtek-ME
Technologies: Coil and Sheet Handling