Automatic Feed Debuts New Coil-Feed Lines, and the Edge Stacker for Surface- and Edge-Critical Blanks
February 7, 2022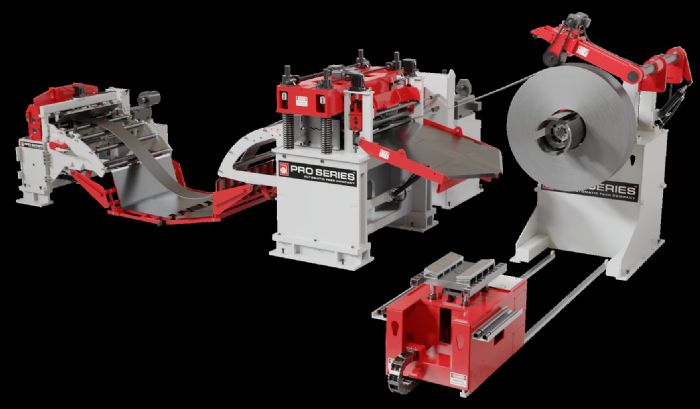 Automatic Feed Company (AFCO), Napoleon, OH, has introduced its Pro Series coil-processing lines aimed at Tier automotive suppliers processing advanced high-strength steels and aluminum alloys for non-surface-sensitive automotive applications. The lines comprise a single reel and coil cart, peeler, straightener, threading table and press feed, and can directly feed coil stock to a stamping press or a laser-blanking system. The controls package enables integration between the press and the coil line and includes a pedestal-mounted HMI with touchscreen control.
Pro Series systems come in three sizes, with coil-width capacity of 40, 60, or 80 in. All models can feed a minimum coil width of 4 in. and sheet thickness from 0.02 to 0.25 in. at speeds to 160 ft./min. Use the machines to feed aluminum grades with yield strengths to 350 MPa and steel to 1200 MPa, with maximum coil weight of 60,000 lb. and 80-in. maximum coil o.d. The units feature AFCO's state-of-the-art leveler technology and include a straightener calculator to help operators adjust straightener settings. The uncoiler reel features a servo motor for optimum back-tension control.
Also new from AFCO: The Edge Stacker, featuring a servo-driven overhead conveyor that transports blanks and precisely drops them into ice-cube stacks while maintaining premium edge quality. Use the stacking system on blanking or cut-to-length lines processing surface-sensitive steel or aluminum, as well as on laser-welding lines. Material capacity, 0.5 to 3.0 mm thick; blank-size capacity, 100-4000 mm long by 300-2134 mm wide. The stackers are available as single- or double-station units and can be equipped with switchable permanent magnets, a vacuum system, or as a hybrid version that includes both. Choose from a variety of stacking-guide options.
Edge stackers typically include an exit conveyor with sheet lifters, multiple guide assemblies, and rotating stacking carts with scissor lifts. Select from several operating modes including single stacking for a single stack per station; continuous-mode stacking for non-trapezoidal blanks; alternate-mode stacking for trapezoidal blanks; dual side-by-side part stacking; and dual end-to-end part stacking. A Soft Piling feature, unique to AFCO's motion-control technology, protects the leading edge of parts; for an added level of edge protection, add the Stop & Drop stacking feature.
See also: Automatic Feed Company
Technologies: Coil and Sheet Handling