Also serving to lessen deflection is the eccentric-shaft design, with "more bearing surface, and better torsion and deflection characteristics than a typical crankshaft machine," continues Wisnoski, explaining that the shaft is machined from one solid-steel piece. "Because of the eccentric design, the shaft is supported along its length, and with the support bearings placed closer to driving points, shaft deflection is reduced.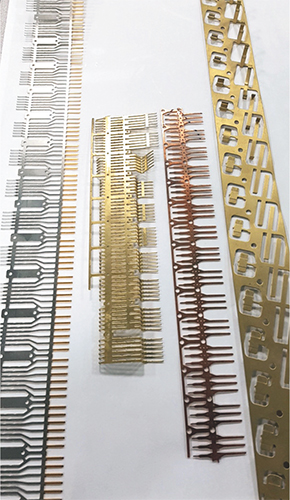 A customized high-speed press provides KSR International with the capability to produce terminal pins to the tune of about 15,000/hr., with annual volumes reaching 14 million. The parts are used in various automotive, light-truck and all-terrain-vehicle applications, as well as in hybrid and electric vehicles.
"In addition," he adds, "our plunger guiding system allows for accurate guiding assistance to the roller guides, and we are able to seal the upper portion of the machine and lubricate the gearing and internal components of the drive system."
Then there's the balancing device, designed to counterbalance the eccentric thrust generated from the shaft rotation and slide movement. "Pneumatically operated, using air pressure and counter weights, we offset the slide velocity," Wisnoski says. "In so doing, we reduce press-frame vibration and prolong tool life."
As for addressing KSR's need to keep the pin-terminal parts oil-free, Wisnoski explains that the guide system incorporates a precision hardened roller system along the length of the guide with the lubrication integrated in the roller housing to ensure proper oil flow. "The rollers are designed to have minimal contact with the guide," he says, "limiting friction and heat, which allows high speeds to be maintained during operation."
The press also has a hydraulic slide-adjustment locking device, standard on all Stamtec high-speed presses. The device hydraulically locks the slide-adjustment threads to eliminate clearances and ensure consistency of the slide's position at bottom dead center.
More High-Voltage Parts to Come
KSR remains committed to adding capacity and new business, says Cafarelli. "We are looking at increasing our electronic-parts business, with more high-voltage components, which will expand our microstamping needs and reel-to-reel overmolding. The need for specialty materials such as copper with aluminum inlays will drive new feed equipment, as it has to be scratch-free for wire bonding, and will drive the press area to be more of a cleanroom environment."
"With companies such as KSR continuously showing an ability to innovate and a willingness to replace outdated equipment with new and specialized machine designs," says Wisnoski, "transportation-parts production will remain on the right track." MF

See also: Stamtec, Inc.
Technologies: Coil and Sheet Handling, Stamping Presses