Coil-Feed Equipment, Setup Features and Cost Estimator
October 1, 2015
Coe Press Equipment
Booth S4722, S4734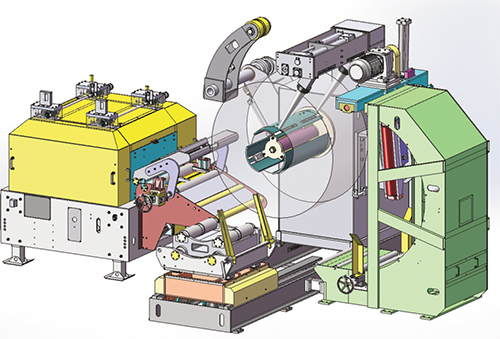 Coe Press Equipment, Sterling Heights, MI, features a number of new coil-feed products, including its SpaceMaster Series 4 compact coil line (schematic shown). The line combines unwinding, straightening and feeding of coil stock into one piece of equipment capable of processing higher-strength, higher-yield materials within space-constrained areas. The SpaceMaster Series 4 fits within 22 ft. of floor space where a conventional line would require a 40- to 50-ft. footprint. The Series 4 feeder-straightener features Coe's new servo-actuated pilot release of the upper straightener rolls. This lift mechanism provides more accurate piloting timing, faster pilot release and higher speed than hydraulic and pneumatic designs. The systems also feature powered pull-off rolls to maintain tension on heavy-gauge and high-strength materials.
The SpaceMaster Series 4 can handle materials from 0.020 to 0.40 in. thick and 12 to 72 in. wide, and coil weights from 10,000 to 60,000 lb. The systems can achieve press-feed speeds of 70 to 80 strokes/min. as compared to 40 to 50 strokes/min. in traditional compact coil lines.
In addition, the company demonstrates its new Work Roll Advisor feature for straightener setup, where a Coe coil-processing line feeds an AIDA DSF-M2-4000 servo press. Roll-depth setting, typically accomplished through trial and error, is automatically calculated and, depending on the machine configuration, automatically set. The Work Roll Advisor allows users to simply enter their material specifications—thickness, width and yield strength—into the controls, and the recommended straightener roll-depth settings are automatically calculated.
Coe will calculate savings-based upon ton-usage and toll rate—that can be achieved by blanking inhouse with a Coe Value-Added Series cut-to-length (CTL) line. Inhouse CTL lines provide flexibility to run blanks in the sizes needed, according to company officials, reducing inventory, scrap and overall processing costs while improving quality.
See also: Coe Press Equipment Corporation
Technologies: Coil and Sheet Handling