Stiffer Carbon-Fiber T-Boom Tooling
January 29, 2020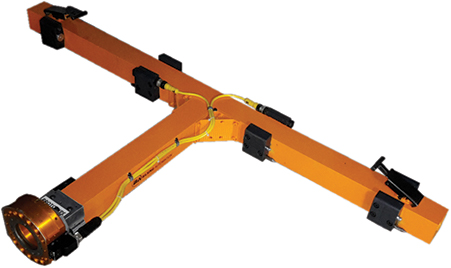 Bilsing Automation has introduced enhanced carbon-fiber T-boom tooling, which includes a 15-percent increase in carbon-fiber stiffness as well as modifications to the profile for easier joining via the company's special fastening technology. Improved tool stiffness results in less vibration and deflection, thus improved speed and precision, according to company officials. The booms are well-suited for pressroom and stamping applications, including hot forming, as well as assembly, plastic injection molding and more.
In independent laboratory tests comparing compression-loaded steel, aluminum and carbon fiber at 1 million cycles with approximately 350 lb. of tension force, Bilsing carbon-fiber booms reportedly proved to be lighter and more robust than aluminum, yet stronger than steel booms of the same size. As a result, switching from metal booms to carbon fiber tooling, according to Bilsing officials, enables manufacturers to improve production rates by as much as 20 percent.
The company's fastening methodology for its T-booms marries the carbon-fiber structure at the joints first with an adhesive and then reinforces it with steel bolts through the core. This reportedly results in a joint that is as strong as a steel weld while lowering manufacturing costs. And, modular design of the tooling allows users to change out components easily instead of having to replace the entire unit should a component break or require replacement.
The T-booms are compatible with a variety of standard vacuum, gripper and power-clamp components.
See also: Bilsing Automation North America
Technologies: Coil and Sheet Handling, Pressroom Automation, Tooling