About the Punch-Shear Combo
The Shear Genius SGe consists of a servo-electric turret punch press with integrated right-angle shear and automatic loading equipment. Its core element is the servo-electric technology, allowing sustainable manufacturing with reduced energy consumption, say Prima Power officials, along with raw-material savings and no oil waste.
The heart of the SGe is an updated servo-electric 30-metric-ton punching machine that delivers a maximum stroke speed of 1000 hits/min. It also boasts a 250-rpm index speed and 150-m/min. sheet-positioning speed.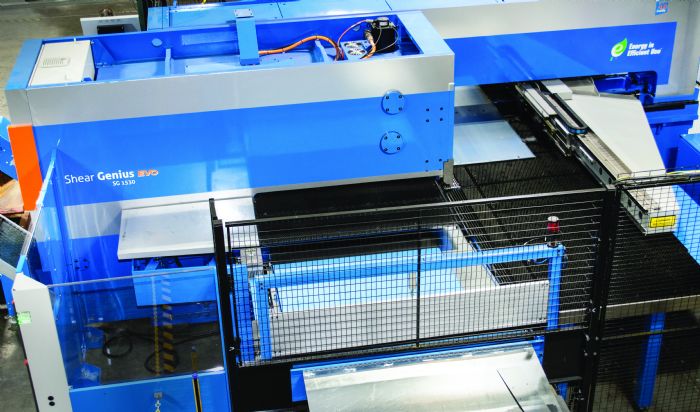 The right-angle shear features a servo-electric actuation system, which makes shear movement fast and fully CNC-controlled for optimum productivity. The shear can handle aluminum sheet to 5 mm thick, mild steel to 4 mm and stainless steel to 3 mm. And, the machine features automatic loading as well as automatic and programmable part removal and sorting.
Lawson shares that the SGe can perform the firm's most demanding jobs with minimal setup times and lights-out unmanned operations. It also increases material productivity through efficient and versatile nesting programs, according to Jason Halsell, vice president operations at C & I Enclosures. As loading, punching, forming and upforming, unloading, sorting, and stacking become automated, the result is finished parts with a dramatic reduction in scrap and manual labor while increasing productivity.
As explained by Halsell, the SGe eliminates wasteful skeletons and costly secondary operations such as deburring. Nibbled edges on part exteriors are eliminated through the use of the integrated right-angle shear. Sheets load and square automatically without human interference, ensuring very accurate parts. In fact, the same clamps that hold the sheet for punching also hold it for shearing. In essence, the SGe allows the automated process to begin with a full-sized sheet of material and end with finished parts.
"The elimination of skeletons is one of the main features we like about the machine," Halsell says. "The right-angle shear allows us to end up with finished, flat parts without having to deal with micro joints and deburring.
"And, this new SGe has some features not found on the older models," he adds, "such as upforming capability. For example, we used to fabricate a louvered part using a secondary operation that we now can fabricate on the new SGe using its upforming capability. Previously, we would run the part in the flat and then take it to a stand-alone, single-station punch press to fabricate the louvers."
Bottom Line
"While our older, hydraulic punch-shear machines served us well," notes Lawson, "the new model is much cleaner and quieter. Reliability and repeatability is enhanced, so everything downstream in the production process, including press brake forming, runs more smoothly."
"It's like we've been driving used cars all of our lives, and this is the first time we've had a new car...and we're pretty excited about it," jokes Halsell. "The SGe also has helped us with any labor challenges, since it loads and unloads automatically." MF
Article provided by Prima Power North America, Arlington Heights, IL; www.primapower.com.
Industry-Related Terms:
Core
,
Forming
,
Model
,
Nesting
,
Punch Press
,
Run
,
Scrap
,
Shearing
,
Stainless Steel
,
Stroke
,
Turret
View Glossary of Metalforming Terms
See also: Prima Power North America, Inc.
Technologies: CNC Punching